The Lexus ES will make use of a 3.5L V-6 with 302 hp / 267 lb ft of torque - up 34 hp and 19 lb ft thanks to a new version of Toyota's D4-S fuel injection system.Owners will also be able to use their smartphone as the vehicle's key, and they can also authorize others to use the car through their phones.The press days for the 2018 Beijing Auto Show are set to occur on April 25th and 26th, followed by a public show that will run through May 4th of 2018.
"Ever since its inception in 1990, Beijing Auto International has been held in Beijing every two years. It has been successfully held for 14 consecutive years. It has become an auto exhibition with a wide range of international influences."
More details can be found at the official website for the Beijing show.
AutoKnowledge Coverage
To view the AutoKnowledge coverage from the show you may load the 2018 Beijing Auto Show saved workspace in our Vehicle Information Center.
Acting as a quick overview of what was released at the show - and a guide to what content will be available - is this list that will be updated live as we integrate our images, OEM press kit images, and OEM press releases from the show into our Vehicle Information Center.
Click here to see the below list of vehicles covered as a webpage...
Here we will have a few of the auto show highlights with some details about each vehicle:
Debuts: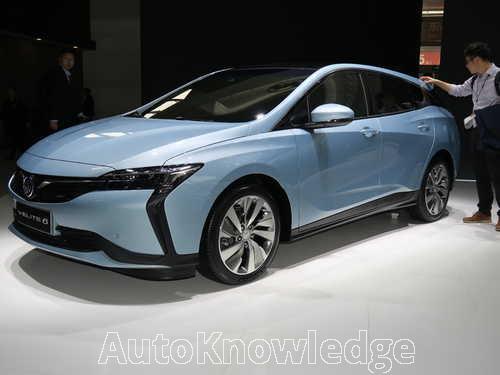 2019 Buick Velite 6 Electric / Plug-In Hybrid: Buick will be adding two new Velite 6 models - a plug-in hybrid and an all-electric version. The Velite nameplate is currently used on a Buick version of the Chevrolet Volt sold in China.
The PHEV and battery-electric versions look nearly identical, with a wide stance, plenty of creases and a hatchback design that bears some similarities to the longer 2018 Regal TourX wagon.
Both models get cloud-based Buick eConnect technology allowing for over-the-air software updates, real-time integration with China's WeChat social media network, and other more. Owners will also be able to use their smartphone as the vehicle's key, and they can also authorize others to use the car through their phones.
The PHEV Velite 6 uses two AC permanent-magnet synchronous motors, a lithium-ion battery and a 1.5L I-4 to produce a combined driving range of 435 miles. Later on Buick will introduce the Velite 6 electric model which "will adopt a new-generation pure electric drive system to offer customers a smooth, quiet and natural driving experience."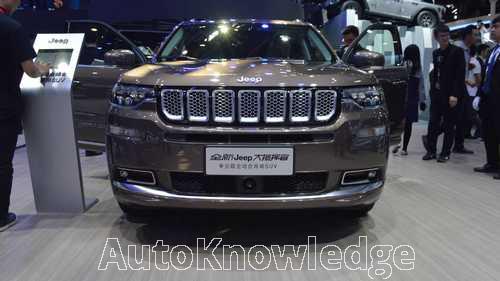 2019 Jeep Grand Commander: Jeep has launched a new 3-row CUV for the Chinese market - the Grand Commander. The Grand Commander is the production version of the Yuntu Concept that was shown at the 2017 Shanghai Auto Show.
The Grand Commander retains many of the overall lines that debuted on the Yuntu, but the changes made for production mean that is fits right in with the styling of Jeep's eisting models. There is a seven-slot grille with more rounded shapes than on the Grand Cherokee, and slimmer headlamps as well - The Grand Commander meshes a sloping windshield with a long roofline and nearly vertical D-pillar. The resulting look is CUV up front and traditional SUV in the rear - a move that adds to the available headroom for 3rd row passengers.
The dashboard of the Grand Commander takes the shapes similar to the Grand Cherokee and adds stylized metal HVAC vents, a skinnier look to the central IP, and cupholders that sit behind the shift lever. Between all three rows there is seating for seven passengers.
There will be a 2.0L turbocharged I-4 available to power the Grand Commander, but specifics have not yet been released.
Redesigns / Refreshes: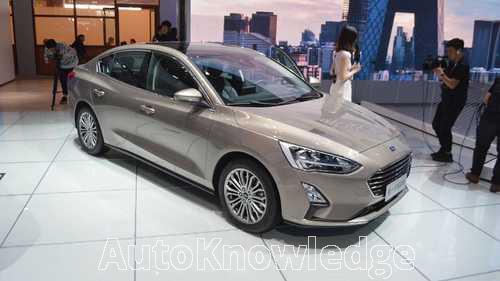 2019 Ford Focus: Ford has redesigned the Focus family of vehicles on the new C2 compact platform that will underpin future vehicles - potentially from subcompact hatchbacks all the way up to models the size of the Edge. This new Focus will be available as a sedan, wagon, 5-door hatchback, and as an 'Active' model with a slight lift and crossover design cues. Ford recently announced they are dropping all cars from their lineup apart from the Mustang and the new Focus Active. This means the US market will not see the sedan, wagon, or normal height hatchback. Trims will include sporty ST-Line versions and the luxury-focused Vignale. Due to the platform change, the Focus will drop as much as 194 pounds compared to the older model, despite a two inch longer wheelbase and a 20% improvement in torsional rigidity.
Ford is seeking to make the Focus a more premium offering - the overall design relies more on softer surface transitions and the greenhouse is more sculpted. Out back there are taillamps with a more traditional shape than the outgoing model. The design also contributes to new class-leading drag coefficients for the Focus - 0.250 for the sedan and 0.273 for the hatchback.
The new Focus brings additional tech like adaptive cruise control with speed sign recognition, headlights with predictive brightness based on bends in the road, automatic parking, and a system that uses radar and camera to maneuver around objects at city speeds if a potential collision is detected. A heads-up display is available, as is park-out assist and post-crash braking assist, and owners can make use of FordPass Connect on their smartphone to locate the vehicle, lock and unlock doors, initiate remote start (on automatic-equipped vehicles), check the vehicle's status including oil life, fuel levels, and more.
The new Focus receives a rotary shift knob on the center console for automatic-equipped trims and sees a dashboard bisected by trim running from the instrument cluster to the passenger side HVAC vent. There are premium materials used throughout and better detailing on areas like the door panels and IP.
In China, engines include two gasoline choices - a 1.0L turbo I-3 and a 1.5L I-4 - and two diesel choices - a 1.5L I-4 and a 2.0L I-4. Europe will see similar engines available in even more states of tune.
2019 Lexus ES 19 Sedan: The ES has been redesigned with the intent to add a sporty character to the line. Underpinning the ES is Lexus' Global Architecture-K platform - said to be a rigid front-drive platform that will help imbue the ES with better handling characteristics.
The new ES is lower and wider than before, with a large spindle-grille that protrudes further forward, lending the ES a longer hoodline in the process. F-Sport models will have additional touches to separate them from the normal ES 350.
The new ES 350 offers Apple CarPlay, Amazon Alexa car-to-home and home-to-car communications, and on-board Wi-Fi powered by Verizon. An optional 12.3-inch dash display serves up navigation information and F Sport versions add Adaptive Variable Suspension with adjustable dampers that offer a claimed 650 different levels of damping (this is similar to the system on the LC Coupe).
The new ES dashboard combines elements from the larger LS with a central infotainment screen and simpler detailing closer to the new UX crossover.
The Lexus ES will make use of a 3.5L V-6 with 302 hp / 267 lb ft of torque - up 34 hp and 19 lb ft thanks to a new version of Toyota's D4-S fuel injection system. The ES 300h hybrid model will use a 2.5L I-4 along with an electric motor for a total output of 215 hp, and will deliver 44 mpg which is a 10% increase over the previous model. There is a new eight-speed Direct Shift automatic transmission with "an ultra-thin torque converter" and multiplate lockup clutch for improved efficiency.
Concepts: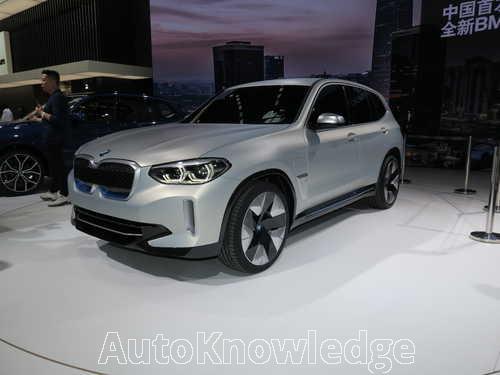 BMW IX3 Electric Concept: BMW's iX3 Concept shows an all-electric crossover that previews a new entry to BMW's 'i' sub-brand.
The iX3 is loosely based on the X3 CUV, with unique front and rear bumper designs and it's own take on the BMW kidney grille since this is an all-electric vehicle.
The iX3's electric motor is said to produce 270 hp and uses a 70kWh battery pack that contributes to a 249 mile driving range.