The press days for the 2018 Paris Auto Show occurred on October 2nd and 3rd, followed by a public show that ran through October 14th of 2018.
"The first automobile show in the World in terms of attendance (1 072 697 visitors in 2016) and media coverage (10,000 journalists including 55% from 100 countries), the Paris Motor Show is also the oldest event dedicated to automobiles, a good reminder that automobiles are… a French invention! At the very heart of Paris, the Paris Motor Show is still an invitation to renew one's automobile dreams. In 2018, the Paris Motor Show is celebrating its 120th anniversary."
More details can be found at the official website for the show.
AutoKnowledge Coverage
To view the AutoKnowledge coverage from the show you may load the 2018 Paris Auto Show saved workspace in our Vehicle Information Center.
Here are a few of the auto show highlights and details about what is new for these vehicles:
Debuts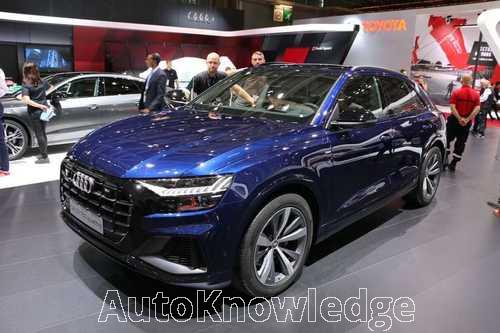 2019 Audi Q8
The Audi Q8 shows off the brand's future design language in both the exterior and interior. A new 3.0-liter V6 engine is introduced, and a 48-volt Mild Hybrid Electric Vehicle system is standard.
A new octagonal design grille showcases the brand's future design language for an aggressive appearance. For the first time on an Audi SUV, there are available 22" 5-double-arm contrasting gray wheels with all-season tires.
A new Audi MMI touch response system is available in the Q8 - this is a touch control system, replacing Audi's outgoing rotary dial and conventional button system. It has haptic and acoustic feedback for user confirmation and allows natural conversational commands like "I'm hungry" for improved voice recognition. A full-color Head Up Display is standard on Prestige models. A variety of driver assistance technology is available on the Q8, including available Adaptive Cruise Control, standard Pedestrian Prevention, available 360 view cameras, and more.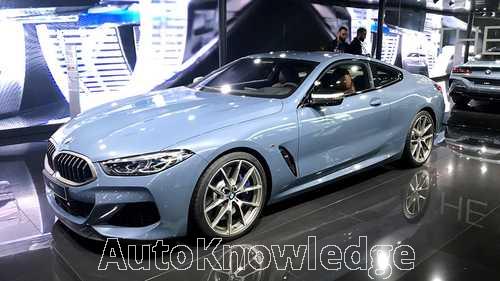 2019 BMW 8-Series Coupe
After a 20 year hiatus, BMW is bringing back the 8-Series nameplate to serve as a halo model at the top of their car lineup, and to replace the 6-series coupe, convertible, and Gran Coupe models.
Powertrain choices will include the M850i xDrive with a 523 hp / 553 lb ft 4.4-liter twin turbo V-8 and, in Europe, the 840d xDrive with a 315 hp / 502 lb ft 3.0L twin turbodiesel I-6. Both versions will use an 8-speed automatic transmission.
Redesigns / Refreshes
2019 BMW 3-Series Sedan
BMW premiered the redesigned 3-Series in Paris. The latest generation (G20) is based on the same CLAR platform that underpins BMW's larger longitudinal-engine models.
This platform change brings a structure that uses more aluminum and high-strength steel than the outgoing F30 generation. It is 3.3 inches longer despite dropping as much as 121 lbs compared to the previous model, and boasts a drag coefficient of just 0.26.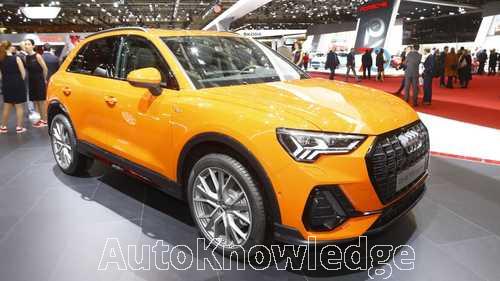 2019 Audi Q3
The Q3 was growing long in the tooth so Audi redesigned it for 2019, making it larger in the process - it gains 3.6 in. in overall length and 3 in. in wheelbase to improve passenger and cargo space.
The new Q3 features an octagonal grille and sharp lines to match the rest of the current lineup. Each trim level features a unique fascia design - the S line adds larger faux air intakes and a chiseled splitter, while full-LED lights are standard equipment front and rear on all trims.
The Audi Q3 comes with plenty of advanced safety technology like forward emergency braking, rear cross-traffic alert, adaptive cruise control, active lane assist, and lane departure warning. Apple CarPlay and Android Auto are standard, along with four USB ports (two in the front and two in the rear) and a 12-volt outlet in the back. The new Q3 receives a six-mode "dynamic handling system" offering Auto, Comfort, Dynamic, Off-Road, Efficiency, and Individual modes, and automatic damping control will be available.
Though the small Q3 model lacks the dual touchscreen center console seen in the new Q8, the console shape definitely influenced the overall design. The 8.8-inch infotainment screen sits directly above physical HVAC controls - a larger 10-inch infotainment screen is available as is Audi's 12.3-inch Virtual Cockpit digital gauge cluster.
Three powertrains will be offered globally for the Q3 - the U.S. version may receive Audi's 2.0L turbocharged I-4 making 190 OR 230 horsepower, and will likely be paired with a 7-speed S Tronic dual-clutch transmission (and Quattro all-wheel drive of course).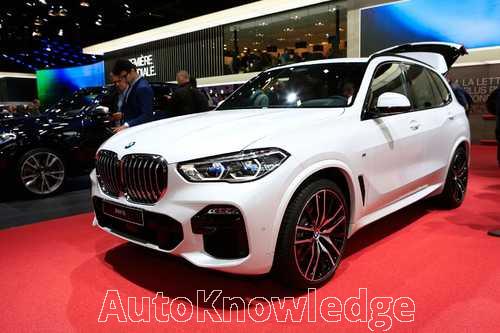 2019 BMW X5
The BMW X5 is redesigned for 2019. The wheelbase grows an inch and a half, along with an increase in length (by 1.5 inches) and width (by 2.5 inches). Exterior revisions are more subtle, with the majority of revisions obvious in the kidney grille and laser technology headlamps.
The new iDrive infotainment system features a 12.3 inch display that can accept input via clickwheel, touch, voice, and gesture commands. This main infotainment screen joins with a 12.3-inch instrument cluster, with BMW's largest-ever head-up display situated above. An expanded line of driver assistance systems includes Steering Assist, Lane Keep Assist, and Reverse Assist.
As with the outgoing model, third row seating is available to bring the passenger capacity to 7. The interior looks more modern and minimalist, with many of the buttons and control consolidated into the new iDrive infotainment system. Two diesel engines and one gasoline engine will be available in Europe.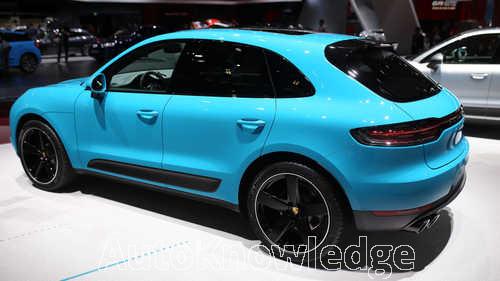 2019 Porsche Macan
Porsche updated the 2019 Macan with light exterior changes, some performance improvements, and an 11 inch touchscreen infotainment system. US base model pricing has just been announced - the new Macan will start at $50,950.
Up front there are air intake tweaks that make the Macan appear lower and wider. The Macan now offers standard LED lighting - the taillights wrap around the liftgate like the larger Cayenne and Panamera models. The Turbo model has unique fascias and bumpers that won't be shared with other versions.
An 11.0 inch touchscreen replaces the former 7.0 inch unit - the air vents have been relocated below the screen to make room. The configurable system's design resembles the one from the Cayenne and Panamera, and the voice-control function is stated to offer improved responses through new software. The optional Sport Chrono package adds the familiar stopwatch atop the dashboard but also brings a round switch on the steering wheel for selecting driving modes and activating 'Sport Response' which sharpens the vehicle's reactions.
The base Macan will again use a 2.0L turbocharged I-4, but will likely see a power increase over the 252 hp made by the outgoing model. There are also two new V-6 engines - the S will get a 3.0L turbo V-6 making around 350 hp, and the Turbo will use the 2.9L twin turbo V-6 (possibly making 440+ hp. All engines are mated to a 7-speed PDK dual-clutch transmission, and Porsche announced that they do not plan to offer a plug-in-hybrid powertrain in the Macan.
Concepts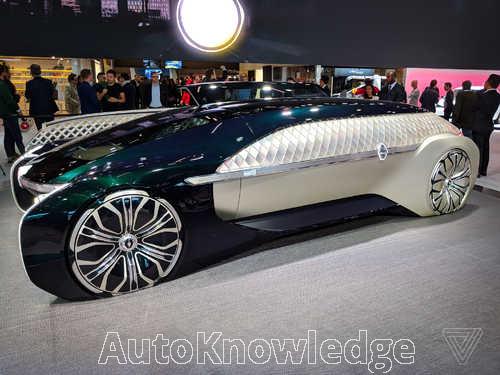 Renault EZ-Ultimo Concept
The EZ-Ultimo Electric vehicle by Renault is yet another vehicle designed for a variety of autonomous scenarios. The Ultimo could be used by tourist looking for a true luxury ride when visiting a new city. The seats have a rotating design and also slide out to truly welcome guests.
Floor Plan
Coverage Integration
This list provides a quick overview of what was released at the show and acts as a log of live image, press kit image, and OEM press release integration into our Vehicle Information Center:
| | | | | | |
| --- | --- | --- | --- | --- | --- |
| Vehicle Name | Level of Change | Image Status | Press Release Status | Trim Level Captured | Comment |
| Audi A1 19 5-Door Europe | Redesign | Integrated | Integrated | A1 35 TFSI 2.0L turbo I-4 7-Spd DCT AWD | Redesigned small hatchback, now wider and longer than before, with an assortment of TSFI engines including a 1.0-liter three-cylinder as well as a 1.5- and 2.0-liter four-cylinder. |
| Audi e-tron 19 Electric Europe | Debut | Integrated | Integrated | e-tron Electric 1-Spd AT AWD | The e-tron is Audi's first all-electric vehicle. This electric SUV uses two electric motors that stated to be exceptionally quiet - this implementation means the e-tron is an all-wheel drive vehicle. |
| Audi Q2 19 Europe | Trim | Integrated | Integrated | SQ2 2.0L turbo I-4 7-Spd DCT AWD | SQ2 performance trim will take on the BMW X2 M35i using the engine from the Volkswagen Golf R and subtle exterior upgrades. |
| Audi Q3 19 Europe | Redesign | Integrated | Integrated | Q3 45 TFSI 2.0L turbo I-4 7-Spd DCT AWD | The Q3 was growing long in the tooth so Audi redesigned it for 2019, making it larger in the process - it gains 3.6 in. in overall length and 3 in. in wheelbase to improve passenger and cargo space. |
| Audi Q8 19 Europe | Debut | Integrated | Integrated | Q8 3.0L turbodiesel V-6 8-Spd AT AWD | The Audi Q8 shows off the brand's future design language in both the exterior and interior. A new 3.0-liter V6 engine is introduced. A 48-volt Mild Hybrid Electric Vehicle system is standard. |
| Audi TT 19 Convertible Europe | Redesign | Integrated | N/A | TT 2.0L turbo I-4 7-Spd DCT AWD | The new 2019 Audi TT has gained a subtly refreshed styling, with the front end now featuring a three-dimensional Singleframe grille and new large side air inlets. |
| BMW 3-Series 19 Sedan Europe | Redesign | Integrated | Integrated | 330i M Sport Package 3.0L turbo I-6 8-Spd AT RWD | BMW premiered the redesigned 3-Series in Paris. The latest generation (G20) is based on the same CLAR platform that underpins BMW's larger longitudinal-engine models. This platform change brings a structure that uses more aluminum and high-strength steel than the outgoing F30 generation. It is 3.3 inches longer despite dropping as much as 121 lbs compared to the previous model, and boasts a drag coefficient of just 0.26. |
| BMW 8-Series 19 Coupe Europe | Debut | Integrated | Integrated | M850i xDrive 4.4L twin turbo V-8 8-Spd AT AWD | After a 20 year hiatus, BMW is bringing back the 8-Series nameplate to serve as a halo model at the top of their car lineup, and to replace the 6-series coupe, convertible, and Gran Coupe models. Powertrain choices will include the M850i xDrive with a 523 hp / 553 lb ft 4.4-liter twin turbo V-8 and, in Europe, the 840d xDrive with a 315 hp / 502 lb ft 3.0L twin turbodiesel I-6. Both versions will use an 8-speed automatic transmission. |
| BMW i3 19 Electric Europe | Refresh | Integrated | Integrated | i3 s 120 Ah Electric 1-Spd AT RWD | The 2019 BMW i3 will come with the new 'electricity dispenser' feature. BMW is extending the i3's range for the 2019 model year to 153 miles compared to the previous 114 miles through the use of a new battery cell. |
| BMW X1 19 Europe | Minor Change | Integrated | Integrated | X1 sDrive20d 2.0L turbodiesel I-4 8-Spd AT FWD | New X1 sDrive20d trim with 2.0L turbodiesel I-4 |
| BMW X2 19 Europe | Minor Change | Integrated | Integrated | X2 xDrive18d 2.0L diesel I-4 8-Spd AT AWD | New X2 sDrive20d trim with 2.0L turbodiesel I-4, and X2 xDrive18d with 2.0L diesel I-4 making 148 hp. |
| BMW X5 19 Europe | Redesign | Integrated | Integrated | X5 xDrive40i 3.0L turbo I-6 8-Spd AT AWD | The BMW X5 is redesigned for 2019. |
| BMW Z4 19 Convertible Europe | Redesign | Integrated | Integrated | Z4 M40i 3.0L turbo I-6 8-Spd AT RWD | BMW has launched an all-new BMW Z4 Roadster atop a chassis with 50:50 weight distribution - this new platform is shared with Toyota's new Supra model. The lineup will incorporate 255 hp and 382 hp BMW TwinPower Turbocharged engines. The 2019 Z4 sDrive30i will launch in the US during March of 2019, with a Z4 M40i model to follow. |
| Citroen C5 Aircross Plug-In Hybrid Concept | Concept | Integrated | Integrated | Citroen C5 Aircross Plug-In Hybrid Concept | - |
| DS 3 19 Crossback Electric Europe | Alt Energy | Integrated | Integrated | DS 3 E-Tense Electric 1-Spd AT FWD | CMP architecture that will underpin the next generation Peugeot 208. It allows the DS3 Crossback to adopt several small internal combustion engines. A fully electric version is also expected, using a 115 PS (113 hp / 84 kW) electric motor and a 50 kWh battery. The zero-emission model should be able to travel up to 450 km (280 miles) in between charges. |
| DS 3 19 Crossback Europe | Redesign | Integrated | Integrated | DS 3 1.2L turbo I-3 8-Spd AT AWD | CMP architecture that will underpin the next generation Peugeot 208. It allows the DS3 Crossback to adopt several small internal combustion engines. A fully electric version is also expected, using a 115 PS (113 hp / 84 kW) electric motor and a 50 kWh battery. The zero-emission model should be able to travel up to 450 km (280 miles) in between charges. |
| GAC GS5 19 Europe | Debut | Integrated | Integrated | GS5 1.5L turbo I-4 6-Spd AT AWD | The GS5 is the ninth model to come out of the GAC, which is only celebrating its 10th anniversary this year. |
| Honda CR-V 18 Hybrid Europe | Alt Energy | Integrated | Integrated | Hybrid 2.0L I-4 1-Spd AT AWD | The 2019 Honda CR-V Hybrid are powered by a 2.0-liter i-VTEC Atkinson-cycle engine and two electric motors. The hybrid powertrain is married to a single fixed-gear ratio and is backed up by a lithium-ion battery pack, with a combined output of 184 PS (181 hp / 135 kW) and 315 Nm (232 lb-ft) of torque. Drivers will get to select between three driving modes, called EV Drive, Hybrid Drive and Engine Drive. |
| Hyundai i30 19 Fastback Europe | Trim | Integrated | Integrated | i30 N 2.0L turbo I-4 6-Spd MT FWD | Hyundai is launching an N-prepped version of the i30 Fastback model, basically creating a new niche on the affordable performance car market. |
| INFINITI Project Black S Concept | Concept | Integrated | Integrated | INFINITI Project Black S Concept | Infiniti revealed the new Project Black S Prototype featuring F1 Hybrid technology for the road. |
| Kia e-Niro 19 Electric Europe | Alt Energy | Integrated | Integrated | e-Niro Electric 1-Spd AT FWD | Kia debuted the e-Niro electric at the 2019 Paris Auto Show with an WLTP range of over 300 miles. |
| Kia Proceed 19 Wagon Europe | Redesign/Bodystyle | Integrated | Integrated | GT 1.6L turbo I-4 7-Spd DCT FWD | The redesigned Kia Proceed Wagon is only available in the european market and as of now has few comparable competitors, one of which is the Mercedes CLA Shooting Brake. The same fuel and Diesel motors will be used on the Proceed and Ceed vehicles. |
| Lexus ES 19 Sedan Europe | Redesign | Integrated | Integrated | ES 350 3.5L V-6 8-Spd AT FWD | European premier of Lexus' redesigned ES model on the TNGA platform. |
| Lexus LC 19 Coupe Europe | Trim | Integrated | Integrated | Limited Edition LC 500 5.0L V-8 10-Spd AT RWD | Limited Edition in exclusive yellow color. |
| Lexus RC 19 Coupe Europe | Refresh | Integrated | Integrated | RC 350 F-Sport 3.5L V-6 8-Spd AT RWD | The Lexus RC has been facelifted for 2019 and saw it's auto show debut in Paris. |
| Mercedes-Benz A-Class 19 5-Door Europe | Trim | Integrated | Integrated | AMG A35 2.0L turbo I-4 7-Spd DCT AWD | Mercedes' A-Class was redesigned with cues from the Concept A Sedan, and will be offered in 4-door and 5-door versions. The A-Class was initially unveiled in Amsterdam back on February 2nd and appeared at the 2018 Geneva auto show, and Mercedes launched a high performance AMG A 35 trim for the 5-door hatch at the 2018 Paris Auto Show. The AMG A 35 isn't a direct replacement for the outgoing A45 - that model is slated for a later debut in order to offer two levels of performance on their smallest model. The A 35 will produce 302 horsepower and 295 lb ft of torque from a 2.0L turbo I-4 (which does not, as earlier reports suggested, feature an electric compressor). AMG has suggested a 0-62 mph time of 4.7 seconds, coming close to the numbers that the outgoing A 45 delivered. AMG also strengthened the body shell, tweaked the suspension / all-wheel drive system / 7-speed DCT programming / driving programs to deliver a unique experience versus the base A-Class models. The AMG A 35 won't allow for rear biased torque splits, but will include a launch control system and a new data logger for recording track performance. The U.S. market will get the A-Class sedan, but not the 5-door hatchback. |
| Mercedes-Benz B-Class 19 5-Door Europe | Redesign | Integrated | Integrated | B200 2.0L turbodiesel 8-Spd DCT AWD | Mercedes' compact B-Class crossover / people mover has been redesigned and introduces semi-autonomous driving capability handed down from the S-Class. |
| Mercedes-Benz EQC 19 Electric Europe | Debut | Integrated | Integrated | EQC 400 Electric 1-Spd AT AWD | The EQC is a new all-electric crossover from Mercedes-Benz, based on the existing GLC-Class platform. The new model is the first in Mercedes' EQ sub-brand, and uses two electric motors to offer more than 200 miles of driving range. |
| Mercedes-Benz GLE-Class 20 Europe | Redesign | Integrated | Integrated | GLE 450 3.0L turbo I-6 9-Spd AT AWD | Mercedes' GLE-Class midsize CUV has been redesigned with improved aero, more interior room, and cutting-edge technology. |
| Peugeot 508 19 Wagon Plug-In Hybrid Europe | Redesign | Integrated | Integrated | Hybrid 1.6L turbo I-4 8-Spd AT FWD | The Peugeot 508 Hybrid Wagpm will also feature a few new hybrid motors on existing motors the 508 already has. 4-wheel drive now available on the HYBRID4 trim. New adaptive braking system which aids in charging the battery. |
| Peugeot E-Legend Concept | Concept | Integrated | Integrated | Peugeot E-Legend Concept | The E-Legend Concept by Peugeot is futurist, yet sports a classic style on the interior we have not seen in some time. The i-Cockpit is remarkable featuring a induction charging for phones, infotainment system that comes with 17 languages, 49-inch screen, and passenger isolation to allow people to listen to music on their own without other passengers as well as to keep the drive less distracted. The exterior is sleek, with sharp corners and distint side mirror. Large 19-inch wheels gave this vehicle an even more intense look. |
| Porsche Macan 19 Europe | Refresh | Integrated | Integrated | Macan 2.0L turbo I-4 7-Spd DCT AWD | Porsche updated the 2019 Macan with light exterior changes, some performance improvements, and an 11 inch touchscreen infotainment system. US base model pricing has just been announced - the new Macan will start at $50,950. |
| Renault EZ-Ultimo Electric Concept | Concept | Integrated | Integrated | Renault EZ-Ultimo Electric Concept | The EZ-Ultimo Electric vehicle by Renault is yet another vehicle designed for a variety of autonomous scenarios. The Ultimo could be used by tourist looking for a true luxury ride when visiting a new city. The seats have a rotating design and also slide out to truly welcome guests. |
| Renault K-Ze Electric Concept | Concept | Integrated | Integrated | Renault K-Ze Electric Concept | The Ranault K-Ze Electric is being marketed as a low-cost electric vehicle could have an EV range of 155 miles. The car features parking sensors, rear camera, and central display screen. The K-Ze is fullt electric with dual charging available for both home and public charging. |
| Renault Kadjar 19 Europe | Refresh | Integrated | Integrated | TCe 160 1.3L turbo I-4 6-Spd MT 4x4 | The Renault Kadjar introduces a slew of features to go along with its new sleek design. |
| Seat Tarraco 19 Europe | Debut | Integrated | Integrated | Xcellence 2.0L turbo I-4 7-Spd DCT AWD | The Tarraco is a new CUV from Seat that is slightly larger than the Ateca. |
| Skoda Karoq 18 Scout Europe | Bodystyle | Integrated | Integrated | Scout 2.0L turbodiesel I-4 7-Spd DCT 4x4 | Skoda is adding an offroad oriented Scout bodystyle to the Karoq lineup. |
| Skoda Kodiaq 19 Europe | Trim | Integrated | Integrated | vRS 2.0L twin turbodiesel I-4 7-Spd DCT AWD | vRS performance trim debuts with 2.0L bi-turbodiesel I-4 making over 230 hp and 369 lb ft of torque. |
| Skoda Octavia 19 Wagon Europe | Trim | Integrated | Integrated | G-Tec 1.5L I-4 7-Spd DCT FWD | The Skoda Octavia received a facelift for Paris with upgrades to the body and a few upgrades to the interior. |
| Skoda Superb 19 Sedan Europe | Trim | Integrated | Integrated | Sportline Plus 2.0L turbo I-4 6-Spd DCT AWD | - |
| Skoda Vision RS Concept | Concept | Integrated | Integrated | Skoda Vision RS Concept | The Vision RS will be the first SKODA model line using the A0 MQB platform along with state-of-art technology The vehicle will reportedly be announced to the public by the end of 2018 Up to 70 km (43.5 miles) of all-electric range 0-100 km/h (62 mph) in 7.1 seconds Charging: in 2.5 hour |
| Smart Forease Electric Concept | Concept | Integrated | Integrated | Smart Forease Electric Concept | - |
| Suzuki Jimny 19 Europe | Redesign | Integrated | Integrated | Jimny 1.5L I-4 5-Spd MT AWD | - |
| Toyota Corolla 19 Touring Sports Wagon Hybrid Europe | Redesign | Integrated | Integrated | Hybrid 2.0L I-4 2-Spd CVT FWD | - |
| Toyota RAV4 19 Hybrid Europe | Redesign | Integrated | Integrated | Hybrid 2.5L I-4 2-Spd CVT AWD | The RAV4 Hybrid was redesigned for 2019 - like it's non-hybrid counterpart it is built on the Toyota New Global Architecture (TNGA) platform. |
| Toyota Yaris 19 5-Door Europe | Trim | Integrated | Integrated | GR Sport 1.5L I-4 2-Spd CVT FWD | - |
| Alfa Romeo Giulia 19 Sedan Europe | Trim | Integrated | Integrated | B-Tech 2.0L turbo I-4 8-Spd AT RWD | New B-Tech editions of several Alfa Romeo models. |
| Alfa Romeo Giulietta 19 5-Door Europe | Trim | Integrated | Integrated | B-Tech 1.4L turbo I-4 6-Spd DCT FWD | New B-Tech editions of several Alfa Romeo models. |
| Alfa Romeo Stelvio 19 Europe | Trim | Integrated | Integrated | B-Tech 2.0L turbo I-4 8-Spd AT AWD | New B-Tech editions of several Alfa Romeo models. |
| Audi A4 19 Sedan Europe | Refresh | Integrated | Integrated | A4 w/S line pkg 2.0L turbo I-4 7-Spd DCT AWD | Refreshed midsize sedan and wagon from Audi. |
| Audi A4 19 Wagon Europe | Refresh | Integrated | Integrated | A4 2.0L turbo I-4 7-Spd DCT AWD | Refreshed midsize sedan and wagon from Audi. |
| Audi A6 19 Wagon Europe | Redesign | Integrated | Integrated | A6 55 TFSI 3.0L supercharged V-6 8-Spd AT AWD | Audi's A6 Wagon adopts sleek sloping roofline without sacrificing practicality. |
| Audi TT 19 Coupe Europe | Redesign | Integrated | Integrated | TT 2.0L turbo I-4 7-Spd DCT AWD | The new 2019 Audi TT has gained a subtly refreshed styling, with the front end now featuring a three-dimensional Singleframe grille and new large side air inlets. |
| BMW 3-Series 19 Sedan Europe | Redesign | Integrated | Integrated | M340i 3.0L turbo I-6 8-Spd AT RWD | BMW premiered the redesigned 3-Series in Paris. The latest generation (G20) is based on the same CLAR platform that underpins BMW's larger longitudinal-engine models. This platform change brings a structure that uses more aluminum and high-strength steel than the outgoing F30 generation. It is 3.3 inches longer despite dropping as much as 121 lbs compared to the previous model, and boasts a drag coefficient of just 0.26. |
| BMW Vision iNext Concept | Concept | Integrated | Integrated | BMW Vision iNext Concept | - |
| Citroen Berlingo 19 Europe | Redesign | Integrated | Integrated | Berlingo 1.5L diesel I-4 8-Spd AT FWD | Utilitarian work van version of recently redesigned Berlingo passenger van. |
| Citroen C3 19 5-Door Europe | Trim | Integrated | Integrated | JAA+ 1.2L I-4 6-Spd AT FWD | JAA+ special edition trim. |
| Citroen C3 19 Aircross Europe | Trim | Integrated | Integrated | Rip Curl 1.4L I-4 6-Spd MT FWD | - |
| Citroen SpaceTourer 19 Europe | Trim | Integrated | Integrated | Rip Curl 1.6L turbodiesel I-4 6-Spd DCT FWD | - |
| Ford Galaxy 19 Europe | Refresh | Integrated | Integrated | Galaxy 2.0L twin turbodiesel I-4 8-Spd AT AWD | The 2019 Galaxy comes with a facelifted look, a new infotainment system as well as the optional all-wheel drive setup. |
| Ford S-Max 19 Europe | Refresh | Integrated | Integrated | S-Max 2.0L twin turbodiesel I-4 8-Spd AT FWD | The 2019 Ford S-Max comes with a refreshed, more sporty look. |
| Honda HR-V 19 Europe | Refresh | Integrated | Integrated | HR-V 1.5L I-4 2-Spd CVT AWD | The six-speed manual transmission will no longer be offered on the 2019 HR-V. |
| Hyundai i30 19 5-Door Europe | Minor Change | Integrated | Integrated | i30 1.6L turbodiesel I-4 6-Spd MT FWD | New connectivity features and 1.6L turbodiesel for the i30 5-Door and Wagon models. |
| Hyundai i30 19 Wagon Europe | Minor Change | Integrated | Integrated | i30 1.6L turbodiesel I-4 7-Spd DCT FWD | New connectivity features and 1.6L turbodiesel for the i30 5-Door and Wagon models. |
| Kia Ceed 19 5-Door Europe | Trim | Integrated | Integrated | GT 1.6L turbo I-4 7-Spd DCT FWD | Sporty new GT trim brings 1.6L turbo making 201 hp tied to a 7-speed dual clutch transmission. |
| Mazda CX-3 19 Europe | Trim | Integrated | Integrated | Sport Black Plus 1.8L diesel I-4 6-Spd AT FWD | Sport Black + trim launched and new 1.8L diesel engine debuts. |
| Nissan Micra 18 5-Door Europe | Minor Change | Integrated | Integrated | Micra 1.0L I-3 5-Spd MT FWD | The Micra gains a new infotainment display and additional standard equipment. |
| Opel Combo 19 Europe | Redesign | Integrated | Integrated | Combo 1.2L turbo I-3 6-Spd MT FWD | Utilitarian work van version of recently redesigned Combo Life passenger van. |
| Opel Corsa 19 5-Door Europe | Minor Change | Integrated | Integrated | SE Nav w/Lux pack 1.4L I-4 6-Spd MT FWD | New trims are now available for the Opel Corsa. 1.4L motor that can be paired with a 5 or 6 speed transmission. |
| Peugeot 208 18 5-Door Europe | Trim | Integrated | Integrated | Tech Edition 1.2L I-4 6-Spd AT FWD | The Peugeot 208 was not at the Paris motor show, but initial reports seem to suggest several attributes from the new 508 were carried over to the 208. The steering wheel, the infotainment system and instrument cluster all look similar to the 508. |
| Peugeot 3008 19 Plug-In Hybrid Europe | Bodystyle | Integrated | Integrated | Hybrid4 1.6L turbo I-4 8-Spd AT AWD | The Peugeot 3008 now features a few new hybrid motors to go along with its existing motors for the 3008 4-wheel drive now available on HYBRID4 engine New addaptive braking system for the 3008. |
| Peugeot 308 18 5-Door Europe | Trim | Integrated | Integrated | Tech Edition 1.5L diesel I-4 8-Spd AT FWD | - |
| Peugeot Partner 19 Europe | Redesign | Integrated | Integrated | Partner 1.2L turbo I-3 6-Spd MT FWD | Utilitarian work van version of recently redesigned Partner passenger van. |
| Renault Clio 18 5-Door Europe | Redesign | Integrated | Integrated | Clio 1.3L turbo I-4 6-Spd MT FWD | - |
| Renault Megane 18 5-Door Europe | Trim | Integrated | Integrated | RS Trophy 1.8L turbo I-4 6-Spd MT FWD | - |
| Seat Arona 19 Europe | Trim | Integrated | Integrated | TGI 1.0L turbo I-3 6-Spd MT FWD | The new Arona TGI is described as "the first SUV worldwide to be equipped with a compressed natural gas powertrain". |
| Suzuki Vitara 18 Europe | Refresh | Integrated | Integrated | SZ-T 1.0L turbo I-3 6-Spd MT 4x4 | - |