The press days for the 2018 Los Angeles Auto Show occurred November 26th through November 29th, followed by a public show that ran through December 9th of 2018.
Autoshow editorial coverage provided by Eric Woodward, Adam Bernard, and additional video/photography staff.
AutoMobility LA brings some of the brightest minds in the automotive and technology sectors together onto one stage to discuss the new mobility industry."
"Leading automakers will debut 50+ vehicles at 2018's AutoMobility LA including debuts from BMW, BYTON, Nissan, Porsche, Rivian, Subaru, Toyota, Volkswagen, Volvo and more!"
More details can be found at the official website for the show.
AutoKnowledge Coverage
To view AutoKnowledge coverage from the show you may load the 2018 Los Angeles Auto Show saved workspace in our Vehicle Information Center.
Debuts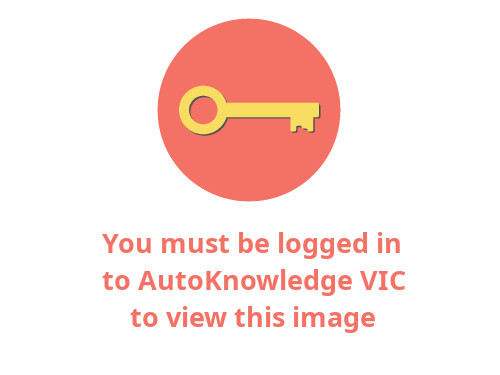 2019 Chevrolet Blazer: Chevrolet is reviving the Blazer nameplate for 2019 - it will be a crossover slotting between the smaller Equinox and the larger Traverse, and is intended to compete directly with the Ford Edge and Nissan Murano.
The new Blazer will go on sale in early January, 2019. It's pricing will start at $29,995 with pricing for the high-end Premier trim reaching as high as $48,960.
All versions will include amenities like an 8-inch color touchscreen, 4G LTE with Wi-Fi Hotspot, Apple CarPlay and Android Auto compatibility, electronic locking glove box, Keyless Open and Start, Teen Driver, Rear Seat Reminder, HD Rear Vision Camera, dual-zone automatic climate control with rear vents, heated and power-adjustable mirrors, Traction Mode Select, adjustable sliding rear seat, a six-way manual driver seat and 18-inch wheels.
The range starts with the 'L' trim level, followed by the 1LT - both of these feature a naturally-aspirated four-cylinder engine delivering 193 hp and 188 lb-ft of torque. The 2LT will use a 3.6L V-6 making 305 hp and 269 lb-ft of torque, and buyers can option an all-wheel drive system for $2,700. Next up is the Blazer RS, a variant that will compete with the Ford Edge ST, followed by the range-topping Premier trim - both the RS and Premier will have an optional Driver Confidence II Package.
Available features include a Panoramic dual-pane power sunroof, advanced twin-clutch AWD system, Hitch View for trailering, automatic heated steering wheel, heated/ventilated front seats, heated outboard rear seats, Rear Camera Mirror, Wireless charging, up to six USB ports, hands-free power liftgate and a suite of active safety systems such Adaptive Cruise Control.
Redesigns / Refreshes
2020 BMW Z4 Convertible: BMW has launched an all-new BMW Z4 Roadster atop a chassis with 50:50 weight distribution - this new platform is shared with Toyota's new Supra model. The lineup will incorporate 255 hp and 382 hp BMW TwinPower Turbocharged engines. The 2020 Z4 sDrive30i will launch in the US during March of 2019, with a Z4 M40i model to follow.
The proportions have grown compared to the previous Z4 - 3.3 in. longer, 2.9 in. wider and 0.5 in. taller, while the wheelbase has been shortened by 1.0 in. to help reach that 50/50 weight distribution. A complex, angular front end incorporates large lower air inletsand a low and wide version of BMW's iconic kidney grille. The stacked headlights are new for BMW and the side profile reveals gills behind the front wheels that pull hot air away from the brakes. Out back a short rear deck incorporates a ducktail spoiler and a pair of trapezoidal exhaust outlets.
The Z4 features a head-up display, digital instrument panel, wide infotainment display, and a small screen with an HVAC readout. The center console features buttons to alter the driving mode and a rotary dial to control the infotainment system. A Harman Kardon Surround Sound stereo lets folks enjoy their music while enjoying top-down motoring.
The Z4 sDrive30i's 2.0L turbo I-4 delivers 255 hp and 295 lb-ft of torque and can reach 60 mph in 5.2 seconds, while the more powerful Z4 M40i's 3.0L turbo I-6 will make 382 hp and 369 lb ft of torque and reach 60 in 4.4 seconds. Both models will use an 8-speed Steptronic Sport automatic transmission and route power to the rear wheels.
Concepts
Audi e-Tron GT Electric Sedan Concept: Audi's upcoming E-Tron GT is an all-electric sports sedan meant to compete with the Tesla Model S. The new e-Tron GT model will be based on the Porsche Taycan's platform. This will be Audi's second electric vehicle after the e-Tron CUV that debuted earlier this year.
The GT's range may be over 400 kilometers (around 245-250 miles) and it will likelt use a 100 kWh battery pack laid out in the floor of the car.
Floor Plan
Coverage Integration
This list provides a quick overview of what was released at the show and acts as a log of live image, press kit image, and OEM press release integration into our Vehicle Information Center:
| | | | | | |
| --- | --- | --- | --- | --- | --- |
| Vehicle Name | Level of Change | Image Status | Press Release Status | Comment | Trim Level Captured |
| Audi A6 19 Sedan Hybrid | Redesign | N/A | Integrated | US debut of the redesigned A6 that first appeared at the 2018 Geneva Auto Show. The new A6 gains Level 3 autonomous tech first seen on the new A8 as well as a 48 volt electrical system. | A6 55 TFSI 3.0L supercharged V-6 8-Spd AT AWD |
| Audi e-Tron GT Electric Sedan Concept | Concept | Integrated | Integrated | Audi confirmed its plan to launch a dynamic four-door electric model in 2020, dubbed the e-Tron GT. The German company made the announcement at its annual press conference, where it also said that the new e-Tron GT will spearhead a line-up of more than 20 electrified models by 2025 | Audi e-Tron GT Electric Sedan Concept |
| Audi Q8 19 | Debut | Integrated | Integrated | The 2019 Audi Q8 is an all-new flagship 5-passenger sporty CUV model intended to compete with the BMW X6. | Q8 3.0L turbo V-6 8-Spd AT AWD |
| BMW 3-Series 20 Sedan | Redesign/Trim | Integrated | Integrated | US debut of redesigned 3-Series sedan and new M340i xDrive trim level. | M340i 3.0L turbo I-6 8-Spd AT AWD |
| BMW 8-Series 19 Coupe | Trim | Integrated | Integrated | BMW may release an M8 performance focused trim on the recently revealed 8-Series Coupe. It will produce 591 horsepower. | M8 4.4L twin turbo V-8 8-Spd AT AWD |
| BMW X5 19 | Redesign | Integrated | N/A | US debut of the redesigned X5 CUV. The X5's wheelbase grows an inch and a half, along with an increase in length (by 1.5 inches) and width (by 2.5 inches). Exterior revisions are more subtle, with the majority of revisions obvious in the kidney grille and (in Europe) the laser technology headlamps. | X5 xDrive40i 3.0L turbo I-6 8-Spd AT AWD |
| BMW X7 19 | Debut | Integrated | Integrated | BMW is adding a range-topping X7 model to compete with the Mercedes-Benz GLS-Class. The 2019 X7 is larger and more luxurious than the recently redesigned X5, and closely resembles the X7 iPerformance concept introduced last year. | X7 xDrive50i 4.4L twin turbo V-8 8-Spd AT AWD |
| BMW Z4 20 Convertible | Redesign | Integrated | N/A | BMW has launched an all-new BMW Z4 Roadster atop a chassis with 50:50 weight distribution - this new platform is shared with Toyota's new Supra model. The lineup will incorporate 255 hp and 382 hp BMW TwinPower Turbocharged engines. The 2019 Z4 sDrive30i will launch in the US during March of 2019, with a Z4 M40i model to follow. | Z4 M40i 3.0L turbo I-6 8-Spd AT RWD |
| Chevrolet Blazer 19 | Debut | Integrated | Integrated | Chevrolet is reviving the Blazer nameplate for 2019 - it will be a crossover slotting between the smaller Equinox and the larger Traverse, and is inteded to compete directly with the Ford Edge and Nissan Murano. The new Blazer will go on sale in early January, 2019. | Premier 3.6L V-6 9-Spd AT AWD |
| Chevrolet Cruze 19 5-Door | Refresh | Integrated | N/A | Chevrolet has taken the 2019 Cruze to the plastic surgeon, updating its exterior and making a few improvements to the cabin. However, the biggest change is the addition of a new RS package, with black window moldings and bowtie emblems, and 17-inch alloy wheels, with 18-inch ones being available. The rest of the lineup, which continues to be offered as a sedan or hatchback, sports the latest iteration of Chevy's corporate grille, LED taillights and new wheel options, in addition to a new infotainment system with a 7-inch touchscreen display, 4G LTE and Wi-Fi hotspot. Buyers will also enjoy the remote start and automatic climate control, offered at no extra cost on the LT and Premier grades, and can spec the cabin in a new color, called Umber. Another novelty is the introduction of the LS trim on the five-door model. | RS 1.4L turbo I-4 6-Spd AT FWD |
| Chevrolet Cruze 19 Sedan | Refresh | Integrated | N/A | Chevrolet has taken the 2019 Cruze to the plastic surgeon, updating its exterior and making a few improvements to the cabin. However, the biggest change is the addition of a new RS package, with black window moldings and bowtie emblems, and 17-inch alloy wheels, with 18-inch ones being available. The rest of the lineup, which continues to be offered as a sedan or hatchback, sports the latest iteration of Chevy's corporate grille, LED taillights and new wheel options, in addition to a new infotainment system with a 7-inch touchscreen display, 4G LTE and Wi-Fi hotspot. Buyers will also enjoy the remote start and automatic climate control, offered at no extra cost on the LT and Premier grades, and can spec the cabin in a new color, called Umber. Another novelty is the introduction of the LS trim on the five-door model. | LT 1.4L turbo I-4 6-Spd AT FWD |
| Chevrolet Malibu 19 Sedan | Refresh | Integrated | N/A | For 2019, the ninth generation Chevrolet Malibu receives a few styling and technology updates, as well as a new RS trim level. The styling changes include a modified grille, headlamps, taillights, different exhaust tips, new chrome trim, colors and wheel designs. The lighting units on both ends get LED tech in the LT and Premier grades, while the latter adds full LED clusters, too. The Chevrolet Infotainment 3 system is found inside, with a new 8-inch touchscreen display offered as standard across the range. Opt for the Premier model and see the analogue instrument cluster getting replaced by an 8-inch digital system. The L features a reversing camera at no extra cost, whereas the Premier is equipped with standard heated outboard rear seats. | RS 1.5L turbo I-4 2-Spd CVT FWD |
| Dodge Durango 18 | Trim | Captured | N/A | Dodge is adding a GT Rallye appearance package that brings the front and rear bumpers from the more expensive R/T models. | GT w/Rallye pkg 3.6L V-6 8-Spd AT AWD |
| Fiat 500X 19 | Refresh | Integrated | Integrated | Fiat will roll out a refreshed 2019 500X crossover this week at the 2019 Los Angeles Auto Show. It will arrive with a new turbocharged engine, standard all-wheel drive and revised styling. A new 1.3-liter turbo I-4 making 177 hp and 210 lb ft of torque becomes the sole engine option. The six-speed manual transmission has been dropped leaving the nine-speed automatic as the only gearbox option. | Trekking Plus 1.3L turbo I-3 9-Spd AT AWD |
| Ford Transit Connect 19 Cargo | Refresh | Integrated | N/A | Ford is refreshing the Transit Connect, their small van offered in cargo or passenger versions. | XLT 2.0L I-4 8-Spd AT FWD LWB |
| Honda HR-V 19 | Refresh | Integrated | N/A | Honda may bring the refreshed HR-V to an upcoming US show. | Sport 1.8L I-4 2-Spd CVT FWD |
| Honda Passport 19 | Debut | Integrated | Integrated | Honda is resurrecting the Passport name to add another CUV to their lineup. The Passport is likely to be based on the larger Pilot model with a scaled down wheelbase and only two rows of seats. | Passport 3.5L V-6 9-Spd AT AWD |
| Hyundai Palisade 20 | Debut | Integrated | Integrated | Hyundai is releasing a new 3-row SUV named the Palisade. It seats up to eight passengers, one more than the Santa Fe XL that it is intended to replace in their lineup. | Palisade 3.8L V-6 8-Spd AT AWD |
| Jeep Gladiator 20 Crew Cab | Debut | Integrated | Integrated | Jeep will unveil a pickup version of the Wrangler, rumored to be named the Gladiator. | Overland 3.6L V-6 8-Spd AT 4x4 |
| Kia Forte 19 Sedan | Trim | Integrated | N/A | Initially revealed at the SEMA show, Kia is adding a GT trim to the Forte that brings a 1.6L turbo I-4 anf manual transmission to the model. | GT 1.6L turbo I-4 6-Spd MT FWD |
| Kia Soul 20 5-Door | Refresh | Integrated | Integrated | Debut of the redesigned Soul. U.S. buyers will be able to place their orders for the new Soul in the first half of 2019. In doing so, they will enjoy more technology, available advanced driver assistance systems, increased cargo room (compared to predecessor) and even a new rugged X-Line variant, joining the LX, EX, S and GT-Line specs. An all-electric Soul EV model is also on its way, said to be available only with certain retailers in select markets and for a limited time. Otherwise, people looking for a trendy and modern new Kia will have to "settle" for either a normally aspirated 2.0-liter petrol unit or a turbocharged 1.6-liter petrol, mated to an optional 7-speed dual-clutch automatic gearbox – controlled via a rotary dial setup. | X-Line 2.0L I-4 2-Spd CVT FWD |
| Kia Soul 20 Electric | Refresh | Integrated | Integrated | Auto show debut of the Soul EV with a battery pack upgraded to 30 kWh from 27 kWh. This results in a 111 mile electric range (up from 93). | Soul Electric 1-Spd AT FWD |
| Lexus UX 19 Hybrid | Debut | N/A | N/A | US debut of the Lexus UX model first seen in Geneva. | UX 250h Luxury 2.0L I-4 2-Spd CVT AWD |
| Lincoln Aviator 20 | Debut | Integrated | Integrated | Lincoln is debuting a production version of the Aviator SUV concept seen last year. The Aviator will be a 3-row SUV on a rear-wheel drive based platform that will also likely underpin the next Explorer. | Aviator 3.0L twin turbo V-6 10-Spd AT 4x4 |
| Maserati Levante 19 | Trim | N/A | N/A | Maserati may unveil a GTS trim for the Levante CUV. | GTS 3.8L twin turbo V-8 8-Spd AT AWD |
| Mazda3 19 5-Door | Redesign | Integrated | Integrated | The next generation Mazda3 hatchback may debut in LA. This redesigned compact is expected to draw styling from the KAI concept and utilize a SkyActiv-X petrol engine featuring Spark Controlled Compression Ignition. | Sport 2.0L supercharged I-4 6-Spd AT FWD |
| Mazda3 19 Sedan | Redesign | Integrated | Integrated | The next generation Mazda3 hatchback may debut in LA. This redesigned compact is expected to draw styling from the KAI concept and utilize a SkyActiv-X petrol engine featuring Spark Controlled Compression Ignition. | Touring 2.5L I-4 6-Spd AT FWD |
| Mercedes-Benz A-Class 19 Sedan | Redesign | Integrated | Integrated | US debut of Mercedes' smallest sedan, first seen in Geneva, that also introduced their latest infotainment system, known as MBUX. | A 220 2.0L turbo I-4 7-Spd DCT AWD |
| Mercedes-Benz AMG GT 19 Coupe | Trim | Integrated | Integrated | Mercedes' AMG arm is adding an R Pro high performance trim to the AMG GT lineup. It has been tweaked based on what the company has learned from its GT3 and GT4 racing program. Most of the improvements will probably be in aerodynamics and suspension. | AMG GT R Pro 4.0L twin turbo V-8 7-Spd DCT RWD |
| Mercedes-Benz GLE-Class 20 | Redesign | N/A | Integrated | US debut of Mercedes' GLE-Class midsize CUV that has been redesigned with improved aero, more interior room, and cutting-edge technology. The redesigned model is still easily recognizable as a GLE-Class, but it brings softer shapes, smaller head- and taillights, and longer rear doors. The grille now has an octagonal shape, and the lower air dam opening stretches across the entire front end. | GLE 350 2.0L turbo I-4 9-Spd AT AWD |
| Mini Cooper Hardtop 19 3-Door | Refresh | Integrated | Integrated | The Mini Cooper Hardtop and Convertible models were recently refreshed, and now Mini is adding a new Knights Edition that builds on top of the John Cooper Works model. | JCW Knights Edition 2.0L turbo I-4 6-Spd AT FWD |
| Mini Cooper Hardtop 19 5-Door | Refresh | N/A | Integrated | The Mini Cooper Hardtop and Convertible models were recently refreshed, and now Mini is adding a new Knights Edition that builds on top of the John Cooper Works model. | Oxford Edition 1.5L turbo I-3 6-Spd AT FWD |
| Nissan Maxima 19 Sedan | Refresh | Integrated | N/A | Nissan lightly refreshed the Maxima sedan - the headlights have been updated and fully LED-lit units are available. The grille has very subtle changes including a chrome "V" that has sharper corners and looks to dip slightly lower than the old model. There are now small intake grilles on either side of the main grille where the fog lights are housed. Additionally, the car will be available with Nissan's Safety Shield 360, which includes front and rear automatic emergency braking, blind spot warning, rear cross traffic alert, lane departure warning, and automatic high beam headlights. | Platinum Reserve 3.5L V-6 2-Spd CVT FWD |
| Nissan Murano 19 | Refresh | Integrated | Integrated | Nissan may also introduce a lightly refreshed Murano CUV in Los Angeles. | Platinum 3.5L V-6 2-Spd CVT AWD |
| Porsche 911 20 Coupe | Redesign | Integrated | Integrated | Porsche will release the eighth-generation Porsche 911 at the Los Angeles Auto Show. Among the most obvious points of difference from the outgoing model are revised headlights, new taillights that include a light bar stretching the width of the vehicle, and a tweaked tachometer. | Carrera 4S 3.0L turbo H-6 8-Spd DCT AWD |
| Porsche Macan 19 | Refresh | Integrated | Integrated | The Macan has gone through a mid-cycle refresh - the crossover's rear design marks the largest departure, the front end's changes are harder to distinguish. The back now has a full-width taillight strip featuring a standard LED setup akin to the Cayenne and Panamera. The 2019 Macan is wearing a new coat of paint called Miami Blue, which joins other fresh shades such as Dolomite Silver Metallic, Crayon, and Mamba Green Metallic. Rounding off the changes on the inside are the newly designed 20- and 21-inch alloy wheels. | Macan 2.0L turbo I-4 7-Spd DCT AWD |
| Rivian R1S 21 Electric | Debut | Integrated | Integrated | Rivian is a new company looking to launch electric vehicles in the US. The second model to be shown is the R1S, a fully-electric SUV. | R1S Electric 1-Spd AT AWD |
| Rivian R1T 20 Electric Crew Cab | Debut | Captured | Integrated | Rivian is a new company looking to launch electric vehicles in the US. The first model to be shown is the R1T a fully-electric pickup truck with front and rear cargo holds, a storage compartment ahead of the rear wheel wells, a premium interior, and a 230+ mile range. | R1T Electric 1-Spd AT AWD |
| Subaru Crosstrek 19 Plug-In Hybrid | Alt Energy | Integrated | N/A | Subaru is bringing their first ever plug-in hybrid model to LA. The Crosstrek Hybrid will use a 2.0L H-4 engine combined with PHEV tech from Toyota's Prius Prime model. | Hybrid 2.0L H-4 2-Spd CVT AWD Plug-In Hybrid |
| Toyota 4Runner 19 | Trim | Integrated | N/A | Toyota is releasing Nightshade Special Editions packages for the Camry, Highlander, and 4Runner. | Limited Nightshade 4.0L V-6 5-Spd AT 4x4 |
| Toyota Avalon 19 Sedan | Trim | N/A | N/A | Toyota is releasing TRD versions of the Avalon and Camry | TRD 3.5L V-6 8-Spd AT FWD |
| Toyota Camry 19 Sedan | Trim | Integrated | N/A | Toyota is releasing Nightshade Special Editions packages for the Camry, Highlander, and 4Runner. | SE Nightshade 2.5L I-4 8-Spd AT FWD |
| Toyota Camry 19 Sedan | Trim | N/A | N/A | Toyota is releasing TRD versions of the Avalon and Camry | TRD 3.5L V-6 8-Spd AT FWD |
| Toyota Corolla 20 Hybrid | Redesign | Integrated | Integrated | The Corolla has been redesigned for 2020, and Toyota has announced that a hybrid variant will join the U.S. range, with specific details to be announced during the car's North American premiere at the LA Auto Show on November 28. | Hybrid 2.0L I-4 2-Spd CVT FWD |
| Toyota Corolla 20 Sedan | Redesign | Integrated | Integrated | An all-new 2020 Corolla sedan made its official debut on November 15. It shares its basic mechanicals and styling with the 2019 Corolla hatchback. This new model represents one of the biggest changes in the Corolla's recent history, as it transitions from a dated platform to fully modern underpinnings that are part of the Toyota New Global Architecture (TNGA) family. | XSE 2.0L I-4 2-Spd CVT FWD |
| Toyota Highlander 19 | Trim | Integrated | N/A | Toyota is releasing Nightshade Special Editions packages for the Camry, Highlander, and 4Runner. | SE Nightshade 3.5L V-6 8-Spd AT AWD |
| Toyota Prius 19 Hybrid | Refresh | Integrated | Integrated | Toyota will unveil the 2019 Prius on November 28th. The updated model will likely be offered with a new all-wheel drive system in the United States. The decision to offer all-wheel drive on the Prius isn't too surprising as the Japanese variant has been available with an E-Four all-wheel drive system for years. Cars equipped with the system feature an additional electric motor which sends power to the rear wheels for added traction. | Four Touring 1.8L I-4 2-Spd CVT AWD |
| Volkswagen I.D. Buzz 21 Electric Cargo | Debut | Captured | Integrated | After initially debuting at the IAA Commercial Vehicles Show in Hanover, Germany in September, the fully electric Volkswagen I.D. Buzz Cargo will make its North American debut at the 2018 Los Angeles auto show. Based on the I.D. Buzz passenger van, the commercial van can be ordered with a variety of battery packs for range and hauling. It will go on sale in North America by 2022. | I.D. Buzz Cargo Electric 1-Spd AT RWD |
| Lexus LX 19 | Trim | Integrated | N/A | Lexus is introducing an Inspiration Series LX trim, featuring Black Onyx exterior paint, 21-inch black alloy wheels, a black front grille, black trim for the headlamps, foglights and windows along with smoked headlamp lenses. The rear also integrates black chrome accents on the taillamps, license plate and back door. Inside is new Moonlight White Semi-Aniline leather trim with a black headliner, heated and ventilated front and second-row outboard seats. There is also a Climate Concierge feature that automatically monitors the temperature of the four separate climate zones and adjusts the fans and temperature of the seats and steering wheel. LX Inspiration Series also have a Rear Seat Entertainment System, 19-speaker, 450-watt Mark Levinson 1 Reference Surround Sound audio system, a Color Head-Up Display (HUD), Cool box, wireless charger, and heated wood & leather-trimmed steering wheel standard. The LX Inspiration Series will go on sale for $100,420 and is powered by the same 383 hp 5.7L V-8 / 8-speed automatic transmission combo as the rest of the LX models. | LX 570 Inspiration Series 5.7L V-8 8-Spd AT 4x4 |
| Volkswagen Beetle 19 Convertible | Trim | Integrated | N/A | The Beetle has reached the end of the road as Volkswagen of America has announced the iconic model will be going out of production in 2019. Volkswagen is marking the occasion by introducing a Beetle Final Edition which will be available as a coupe and convertible. The model draw inspiration from the 2003 Beetle Última Edición (Last Edition) which celebrated the end of first-generation Beetle production in Mexico. | Final Edition SEL 2.0L turbo I-4 6-Spd AT FWD |