The press days for the 2019 Consumer Electronics Show (CES) in Las Vegas ran from January 8th through the 11th. Our team has highlighted the redesigned vehicles and new automotive technologies shown at CES this year.
Autoshow editorial coverage provided by Eric Woodward, Adam Bernard, and additional video/photography staff.
---
Vehicle Debuts / Redesigns / Refreshes
---
2020 Mercedes-Benz CLA-Class Sedan
Mercedes-Benz brought the redesigned 2020 CLA-class to CES 2019. Styling is evolutionary and looks like a more scaled down version of the CLS-Class.
Available in front- or all-wheel drive, power comes from a new 2.0-liter, 4-cylinder engine that results in 221 hp and 258 lb-ft of torque. It's mated to a 7-speed automatic transmission.
Inside, Mercedes-Benz's new MBUX infotainment system adapts to individual drivers habits and allows natural, conversational speech recognition. In addition to new safety technology like route-based speed control, new convenience technology includes gesture control and an automatic dome light that senses movement underneath and turns on when needed.
Read More:
---
2019 Nissan Leaf Electric
Nissan introduced the Leaf e+, a longer range Leaf. The range is increased to 226 miles (from the regular Leaf's 150 miles) due to a 62 kWh battery pack. The dimensions are largely unchanged despite the bigger battery - it only adds about 0.2 inches in overall height.
A faster charging system is now available, too, meaning the new larger battery can still charge at a similar pace. Calculations suggest the Leaf e+ should be able to charge 135 miles in about 30 minutes. Along with these battery changes, the e+ uses a new 160 kW electric motor, resulting in 214 horsepower and 250 lb-ft of torque.
Aesthetically, it doesn't look much different, but does have an updated 8-inch infotainment screen inside the cabin.
Read More:
---
2019 Byton M-Byte Electric
The M-Byte moves from a concept to a production viable prototype and features a revised steering wheel with integrated screen that the company calls a "Driver Tablet."
The screen will provide easy access to commonly used features such as the radio and climate control system and also contain icons for apps and settings.
Also interesting is giant display screen that runs the full width of the dashboard - another element that was thought to be concept-only that Byton intends to keep on a production model.
Read More:
---
Technologies
---
Nissan Invisible-to-Visible Technology
Nissan's Invisible-to-Visible Technology (dubbed I2V for short) is connected-car technology with an interactive, three-dimensional immersion experience that merges virtual reality and avatars of real people with more hum-drum real-world data.
This technology will combine information amassed from sensors outside and inside the vehicle with data from the cloud. It'll be able to track the vehicle's immediate surroundings, but also anticipate what's not visible to the driver, such as approaching vehicles or pedestrians that are concealed behind buildings or around the corner, and overlay those images on the driver's field of view.
It sounds similar to what Honda has been doing developing "smart intersection" vehicle-to-everything technology at a pilot project in Marysville, Ohio only Nissan goes further by offering "human-like" interactive guidance to the driver, including through avatars that appear inside the car.
Read More:
---
Ford 5G C-V2X Connectivity
Ford plans to roll out a wireless technology for its new vehicle models in the United States, starting in 2022, that will allow direct communication between connected devices. The new technology, called C-V2X, or cellular vehicle-to-everything,  would augment sensors used in self-driving cars making the vehicle's view from radars and cameras more comprehensive.
C-V2X will work with Ford Co-Pilot360 driver-assist and safety technologies. It will be equipped in every new model with cellular connectivity by the end of 2019. Ford also announced that they plan to sell fully autonomous vehicles by 2021.
Read More:
---
Hitachi Car-Summoning Technology
Hitachi introduced long-range vehicle summoning technology that works via a smartphone app. The app reports your car's position on a map, and the path will take the vehicle back to it's owner. Hitachi's technology can also improvise and go around if it finds an obstacle in it's path.
The system shown at CES is powered by several Hitachi and Clarion sensors, but Hitachi says it can also integrate with most OEM vehicle sensor packages.
Read More:
---
Honda Dream Drive Technology
Billed as the "first integrated driver and passenger infotainment, commerce, services and rewards" system, Dream Drive technology goes far beyond traditional infotainment features.
The Driver aspect of the system is similar to GM's Marketplace app. It enables users to make restaurant reservations, order movie tickets and pay for services such as parking or fuel without ever leaving their vehicle. As part of this effort, Honda has teamed up with a number of different companies including Atom Tickets, Chevron, Phillips 66, Grubhub and Parkopedia.
Since the Dream Drive system is voice and touch enabled, Honda says users can enjoy "convenient, safe and easy access to services." The company has also expanded payment options to include PayPal and Mastercard, besides Visa.
Read More:
---
Toyota Guardian Active Safety System
Toyota announced last week that its latest self-driving test vehicle, the TRI-P4, will be used to test two suites of software that explore different applications for automated driving. One is the Guardian active-safety suite which is intended to "amplify human performance behind the wheel, not replace it," the company said in a statement. Toyota's near-term focus will be to boost the capabilities of active-safety systems to assist drivers, by alerting them and in some cases stepping in to reduce the danger of certain on-road situations.
"With Toyota Guardian, the driver is meant to be in control of the car at all times," the company said, "except (when) Toyota Guardian anticipates or identifies a pending incident and employs a corrective response in coordination with driver input."
Toyota dubs this "blended-envelope control," likening it to the control system in modern fighter jets. There, the pilot's motions on the joystick are translated into digital commands to a flight-control system that keeps the plane both stable and flying within a specific safety envelope. The challenges of doing the same for a car operating in traffic is much greater, the company says, because the system must integrate and react to sensor data on both vehicle operations and everything in its immediate environment.
Read More:
---
WayRay Augmented Reality Navigation System
WayRay brought new augmented reality technology to CES, displayed in a Genesis G80. In lieu of a traditional HUD display, WayRay's new technology expands across the entire windshield. WayRay listed several ways that full-windshield HUD display could benefit drivers, including the enhancement of existing car navigation systems and helping new student drivers follow specific lines. Pairing this tech with a current model year G80 was purposeful: WayRay states that this technology is ready to go, not reserved for concept vehicles or years away from being ready. While they are initially showing off this technology in vehicles as a HUD display, they also have plans to make augmented reality whiteboards for office set ups.
Read More:
---
Audi's Immersive In-Car Entertainment System
Audi brought new VR technology to rear-seat entertainment. Pairing with Disney/Marvel, rear-seat passengers use virtual reality glasses to create a realistic VR game, movie, or educational experience thatg is linked with actual movements of the car. Fitted inside an e-Tron, passengers played a game where the virtual reality setting was a Marvel battleship. Every moment in real life is mirrored in the VR experience. For instance, if the vehicle makes a sharp right, the battleship in the VR game makes a sharp right.
Read More:
---
Valeo XtraVue Invisible Trailer Camera System
Valeo's XtraVue trailer system essentially uses cameras on the towing vehicle to display an image on your infotainment screen that renders the trailer virtually transparent. Cameras include one on the rear of the towing vehicle and one camera on the rear of the trailer. While Valeo demonstrated this capability on a separate screen in the cabin, any production version would certainly be integrated right into the infotainment screen.
Read More:
---
Concepts
---
Hyundai Elevate Concept
Hyundai brought a walking electric vehicle concept to CES 2019. The vehicle is described as a UMV - Ultimate Mobility Vehicle. It functions as a traditional vehicle with wheels, but also has moveable legs for "walking".
The vehicle can tackle heights of 5-feet, while also having the ability to fold up and cruise at highway speeds, free itself from snow or rugged terrain, etc.
Hyundai has outlined numerous scenarios in which the Elevate Concept would be practical, including as an emergency rescue vehicle or a taxi for persons living with disabilities.
Read More:
---
Lexus TRI-P4 Autonomous Driving Concept
Based on the LS500h, Lexus brought a new autonomous research vehicle to CES - dubbed the TRI-P4. Picking up on previous design studies, this vehicle has better integrated camera technology along with chassis and steering wheel refinements.
Power comes from a hybrid battery - and because the computer "brain" of the vehicle is now housed vertically against the back of the rear seats, trunk space has been freed up. Toyota plans to modify more LS500h's into TRI-P4 vehicles during spring 2019. These vehicles will be used in the Toyota Research Institute's Guardian and Chauffeur mode development program.
Read More:
---
Bosch IoT Self-Driving Shuttle Concept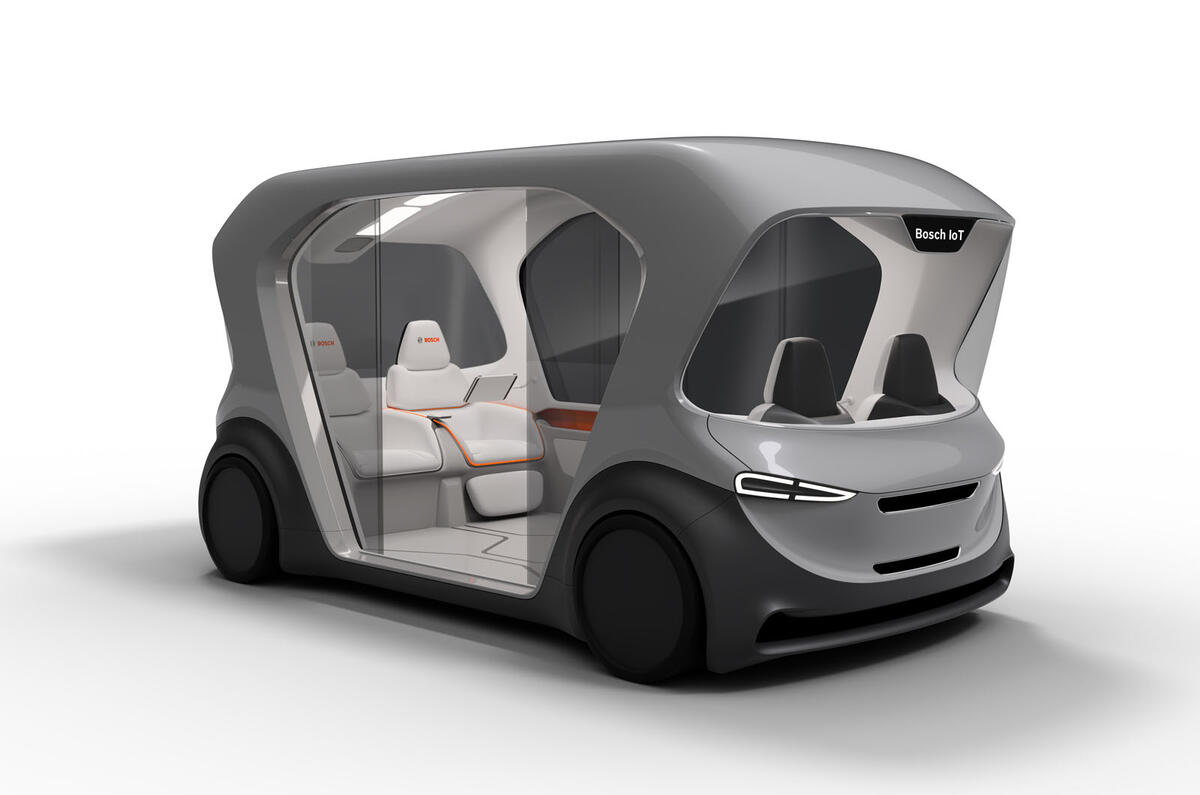 Bosch revealed an autonomous shuttle concept for CES 2019. As an all-electric vehicle, it's said to be almost silent on the road. Inside, the feel is minimalistic, light, and airy.
The shuttle concept uses 360-degree sensors and an intelligent battery management system that allows the vehicle to keep tabs on it's own power levels and find a power source when necessary. The onboard sensors can also monitor environmental conditions and determine when the vehicle needs to be cleaned.
Read More:
---
CES Details
"From tech powerhouses to innovative startups, companies big and small from all industries come to CES to introduce the latest innovation to the global market. Exhibitors feature products from all facets of tech, including sports and vehicle technology, artificial intelligence, drones, augmented and virtual reality, smart cities and resiliency, digital health and more. Manufacturers, developers and suppliers gather at CES to not only showcase game-changing technology to the world, but to also build strong business relationships with new and existing industries."
"The first CES kicked off in 1967, with 250 exhibitors and 17,500 attendees in New York City. Since then, CES has grown by more than 10-fold and now encompasses both traditional and non-traditional tech industries. Check out the major trends and innovations that have made a splash at CES over the years."
More details can be found at the official website for the show.
---
Floor Plan