The press days for the 2020 Consumer Electronics Show (CES) in Las Vegas ran from January 7th through the 10th. Our team has highlighted the redesigned vehicles, concepts, and new automotive technologies shown at CES this year.
Autoshow editorial coverage provided by Eric Woodward and additional video/photography staff.
---
CES Details
"CES is the world's gathering place for all those who thrive on the business of consumer technologies. It has served as the proving ground for innovators and breakthrough technologies for 50 years — the global stage where next-generation innovations are introduced to the marketplace."
"Owned and produced by the Consumer Technology Association (CTA)®, it attracts the world's business leaders and pioneering thinkers."
More details can be found on the official webpage for the show.
---
Floor Plan
---
Vehicle Debuts / Redesigns / Refreshes
---
2021 Jeep Compass / Jeep Wrangler / Jeep Renegade Plug-In Hybrids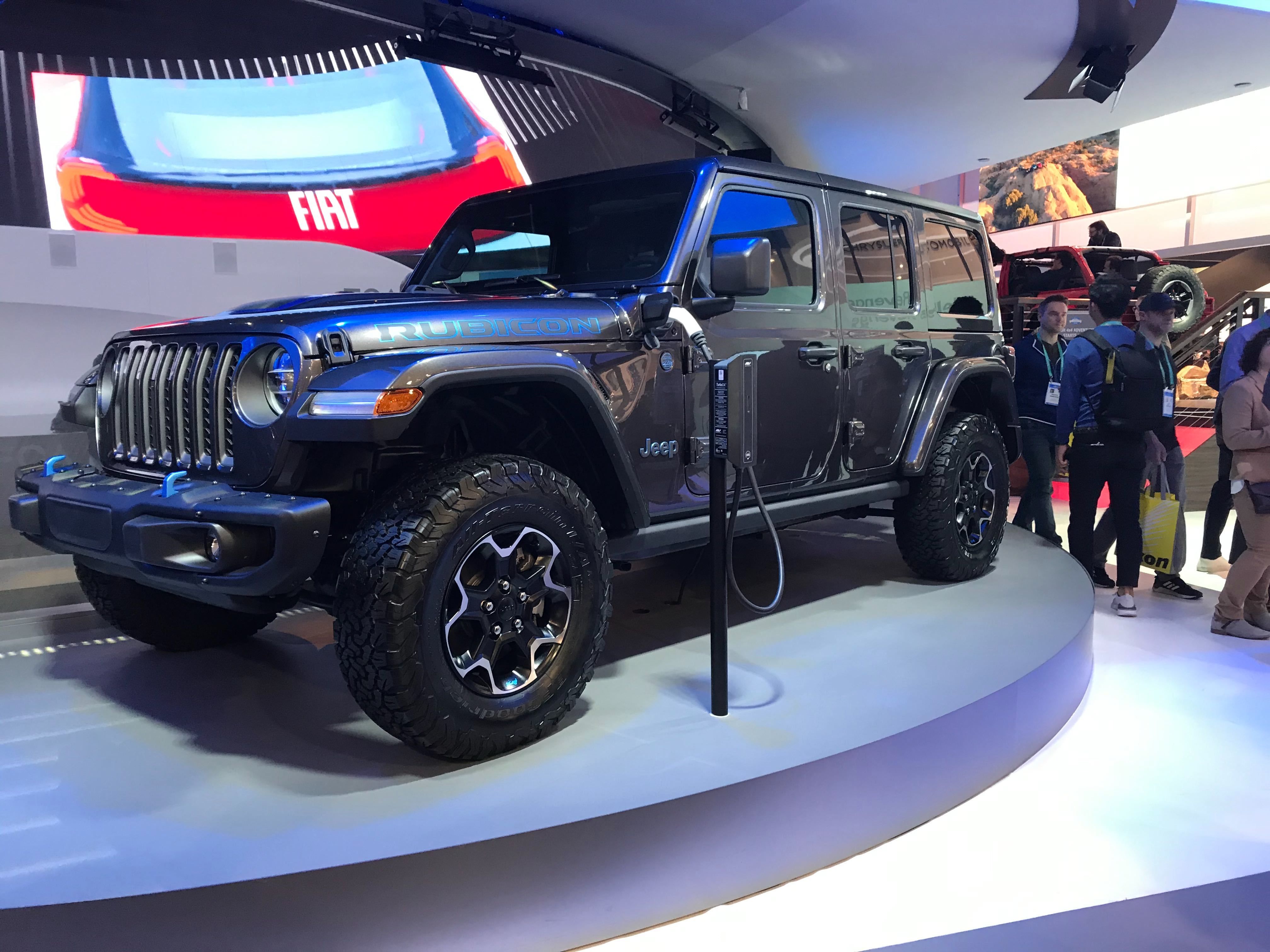 Jeep announced the nomenclature they will use for their new plug-in hybrid models last week - 4xe, and now it's showing them off at the 2020 CES technology show in Las Vegas. The new PHEV models include the Wrangler Unlimited, Compass, and Renegade.
Powertrain details were not shared, but the models on the floor provide a look at what differentiates them from the outside. A charge port can be found on the front fender of the Wrangler and on the drivers-side rear quarter-panels of the Compass and Renegade. There are also blue accents to differentiate these models and different badging.
Jeep has previously given information about the Europe-market versions of the Renegade and Compass plug-in hybrids, which produce a total of 240 horsepower from a turbocharged 1.3-liter inline-four gasoline engine combined with an electric motor. We don't know how those specs compare to the U.S.-market versions of either Jeep but will bring further details as soon as they're available.
Read More:
---
2020 Land Rover Defender
The new Land Rover Defender is being displayed at the Consumer Electronics Show (CES) in Las Vegas this week to highlight its innovative connectivity technology. The off-road capable Defender, which was first revealed at the Frankfurt motor show last year, is the first production car to feature two separate eSIM cards, which Land Rover says enables a faster internet connection and better infotainment experiences for drivers.
The new tech uses two embedded LTE modems and eSIM cards to boost connectivity, with one of each dedicated to software-over-the-air (SOTA) updates and the other for apps and music streaming. The system means that updates can be run in the background without disturbing day-to-day tasks that require connectivity, such as navigation or music streaming.
Peter Virk, Jaguar Land Rover's Future Technology boss, said the system meant the new Defender "has the digital capacity to keep customers connected, updated and entertained at all times anywhere in the world." He compared the twin-eSIM system to the two halves of a brain, adding: "one side of the system looks after logical functions, like SOTA, while the other takes care of more creative tasks."
The new technology is integrated within the Defender's Pivi Pro system, centering on a 10 in. high-resolution touchscreen. Drivers can also connect two smartphones to the infotainment unit via Bluetooth.
Of the New Defender's control modules, 16 will be able to be updated over the air. By 2021, Land Rover expects this number to have increased to 45, completely eliminating the need for in-dealer software updates.
Read More:
---
2022 Fisker Ocean Electric
The Fisker Ocean debuted January 5th, 2020 in Los Angeles just ahead of CES 2020 in Las Vegas. The electric crossover promises a maximum range of 300 miles, an on-sale date of 2021, and a price starting at $37,499. Fisker will also offer a $379-per-month subscription plan once the Ocean is closer to its debut. The subscription service will be cancellable at any time with no penalties and will offer up to 30,000 miles of driving per year.
The Ocean uses an approximately 80-kilowatt hour battery pack to help it achieve its promised 300-mile range. Though details like power and charge time are still murky, the company says the Ocean should be able to hit 60 miles per hour in just 2.9 seconds, with the ability for buyers to choose between two- and all-wheel-drive configurations.
Inside, the Fisker Ocean takes a simplistic approach, similar to what we've seen in upcoming rivals like the Tesla Model Y and Ford Mustang Mach-E. A large touchscreen (no official measurements yet) sits front and center and a smaller screen located behind the steering wheel acts as the digital instrument cluster. There are also two wireless chargers and a head-up display – the latter, the company says, can display music lyrics while a song is playing, assuming the driver is in the mood for in-car karaoke.
Five haptic buttons hide below that larger center screen, giving users quick access to the home screen, fan speed, temperature, and audio. The Ocean should have autonomous capabilities; Fisker didn't mention specifics during the debut, but there is a noticeable radar in the front grille. There's also a "California Mode" feature, which essentially turns the SUV into an open-air vehicle.
Read More:
---
Technologies
---
Gentex Aston Martin Tri-Camera Mirror Technology
Gentex and Aston have just jointly revealed a new tri-camera rearview mirror system. Instead of the whole rearview mirror being one big screen, there is a central display flanked by two smaller screens. These screens display a feed from cameras on the car's side-view mirrors.
Camera side view mirrors already exist in some cars like the Audi E-Tron and Lexus ES in overseas markets, but the integration here is different. Instead of replacing the side-view mirrors with cameras, Aston Martin is keeping the mirrors and adding a camera to each side:
Other manufacturers have been displaying the side-camera feeds in separate screens near the A-pillars, but this implementation is incorporating them into the central rear-view mirror itself.
Read More:
---
Bosch LIDAR and Virtual Visor Technologies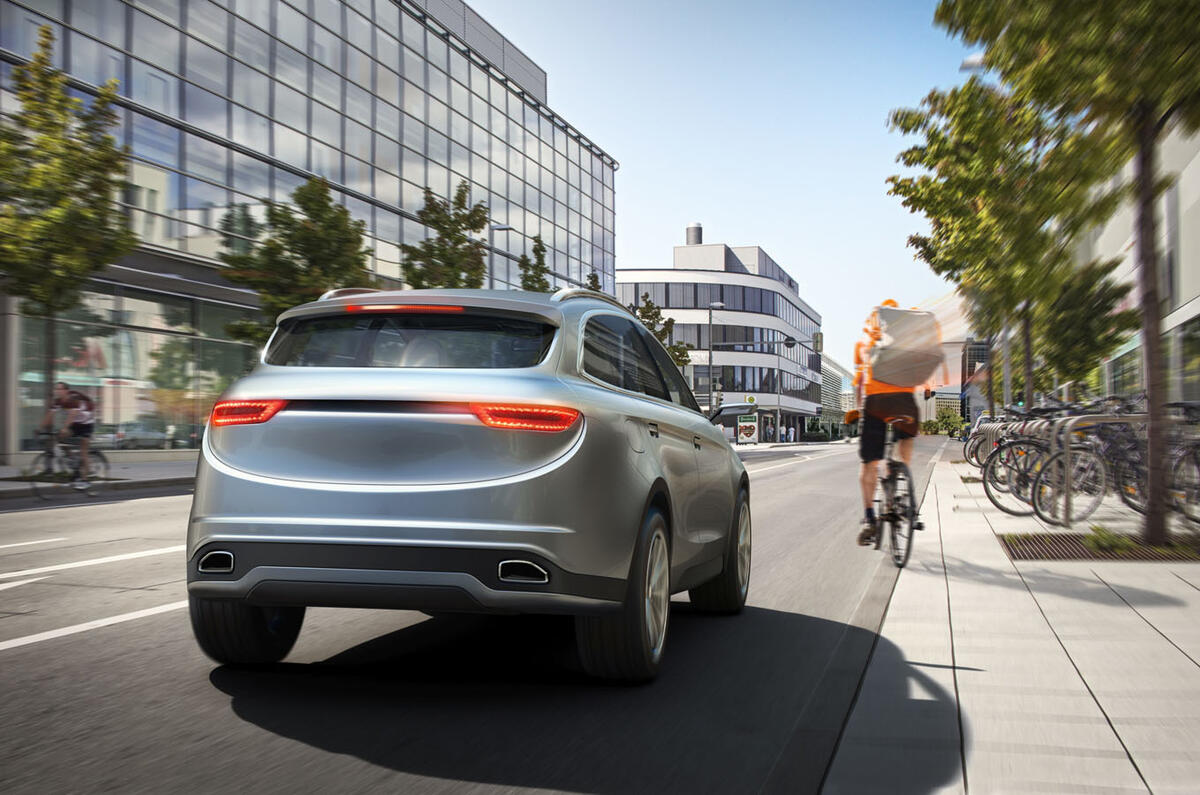 LIDAR
Bosch has become the first company to create a production-ready long-range lidar system, a development that has the potential to speed up the arrival of autonomous driving. The new lidar system covers both short and long ranges and is intended to be combined with existing radar and camera technology, "complementing each other perfectly and delivering reliable information in every driving situation".
A big advantage of lidar is that it can detect narrow objects such as bikes, which radar can miss, and isn't susceptible to strong light as cameras are. This, claims Bosch, makes it the ideal accompaniment to the other systems.
Virtual Visor
The Bosch Virtual Visor features a transparent LCD screen paired with a small in-cabin RGB camera used to track the sun shining on the driver's face.
The system employs artificial intelligence to locate facial features (including eyes, mouth, and nose) in order to track shadows as they move across the driver's face. A patented algorithm is then used to pinpoint where the driver's eyes are and selectively block and unblock (darken) sections of the Virtual Visor in real-time to prevent blindness.
The key benefit is that 90% of the visor remains transparent at all times, so the driver can still see out far more effectively than she or he otherwise would with a conventional fabric-covered visor.
Read More:
---
Continental EHorizon and PreviewESC Technologies
Continental is previewing technologies called EHorizon and PreviewESC - new advanced driver assistance system (ADAS) features that combine sensor data with cloud computing, nav data, and artificial intelligence to help vehicles match their speeds to current driving/weather conditions.
Sideview mirror cameras can watch for water spray coming off the front tires to gauge any danger of hydroplaning. This Road Condition Observer data gets transmitted to the Continental cloud, where similar info from other vehicles gets combined with local temperature and precipitation weather data. In this cloud, Continental's eHorizon technology uses artificial intelligence to combine swarm data from the entire fleet with additional info from neural networks used for image processing and object detection into an information model that can be used to predict accurate, localized coefficients of friction and identify hazardous situations.
Back onboard the vehicle, PreviewESC then uses this friction info along with onboard knowledge of the curvature of the road, upcoming intersections, and the like to regulate speed.
This technology is in development with a specific customer, and it's in limited commercial production today (lacking any auto-braking function).
Read More:
---
CNXMotion Brake-To-Steer Technology
This Continental-Nexsteer (CNX) joint venture delivers redundant emergency steering if primary or secondary electric power steering windings fail during autonomous driving (or when a driver fails to accept a Level 3-4 handoff).
It brakes a front wheel to steer the car in that direction. This idea is already in use for lane-keep-assist functions, but it is able to steer more dramatically if the suspension design incorporates a greater scrub radius (that's where the steering kingpin angle axis intersects the ground well inboard of the center of the tire's contact patch).
A big scrub radius can compromise dynamic handling and steering feel, but these attributes may become less important if autonomous driving technology becomes commonplace.
This technology is still in the concept phase of development.
Read More:
---
Toyota "Woven City" of the Future
Toyota will build a 175-acre prototype 'city of the future' near Mount Fuji in Japan, which will be used to develop and test future technologies.
The Woven City, which will be powered by hydrogen fuel cells, will initially be home to around 2000 full-time residents and researchers, with only zero-emission autonomous vehicles allowed on the main thoroughfares. It will be used by Toyota to test various technology in areas including autonomy, robotics, personal mobility, smart homes, and artificial intelligence. The project was announced by Toyota boss Akio Toyoda at CES in Las Vegas. Toyoda called the bold project "a unique opportunity to develop future technologies", adding: "We welcome all those inspired to improve the way we live in the future to take advantage of his unique research ecosystem and join us in our quest to create an ever-better way of life and mobility for all.
The Woven City will feature a network of connected sensors that will connect with each other through a digital operating system. The city's masterplan will include three street designations:
Streets reserved for faster vehicles.
Streets open to a mix of lower-speed vehicles, personal mobility machines, and pedestrians.
Park-style promenades only open to pedestrians.
The three street types will be woven together 'in an organic grid pattern', which Toyota says will 'help accelerate the testing of autonomous transport'. With only autonomous zero-emission vehicles allowed on the main thoroughfares, Toyota will deploy a fleet of its e-Palette vehicles to be used for public transport, deliveries and as mobile shops.
Work on the Woven City is due to start in 2021, and construction will use fully sustainable materials. Most buildings will be made from wood using a mix of traditional Japanese techniques and robotized production methods, with roofs covered in solar panels to supplement the hydrogen fuel cells. Residential buildings will feature AI to monitor occupants' health, with in-home robotics to provide support. Toyota will also construct neighborhood parks, a large central recreation area, and a large central plaza.
Read More:
---
Renault and Otodo Smart Device Technology
Renault is making a rare appearance in the United States as the company is using CES to unveil a new feature that links your car to your home. Created with Otodo, the unnamed feature is billed as a "new connectivity solution" which enables drivers to control their home from their car's infotainment system.
The service allows users to automate routine tasks - in order to do this, owners download a smartphone app and then select the devices they want to control in certain scenarios. As an example, Renault said users could create a Leaving Home scenario that would shut off the lights, close the blinds and lower the thermostat when you drive away. The opposite is also true as users can create an Arriving Home scenario that opens the garage door and turns on the lights.
The scenarios are highly customizable and can be triggered based on the distance between your home and vehicle. As a result, you could set the system to turn up the thermostat when you leave work so your house is nice and comfortable by the time you arrive. After the initial setup, the process is nearly seamless. However, users will have to hit an "OK" prompt on the infotainment system in order to activate a scenario.
The service will be launched later this year and be available on all Renault models that feature the new Easy Link infotainment system. Among the supported vehicles are new Clio, Captur, and Zoe.
Read More:
---
Concepts
---
BMW i3 Urban Suite Concept
BMW brought 20 modified i3 hatchbacks to CES in order to offer rides in what they have dubbed their "i3 Urban Suite" concept. These have a highly customized interior layout meant to showcase luxury travel that may be possible with autonomous vehicles in the future.
Only the driver's seat and dashboard remain from the production i3 model. The former passenger seat and 2nd row have been transformed into a lounge-like area meant for a single passenger:
Amenities include an entertainment screen built into the headliner and what BMW calls a "Sound Zone" in the rear head restraint that "simulates the effect of an acoustically sealed space" and allows the passenger to enjoy on-screen entertainment or take a phone call without being overheard.
Read More:
---
BMW i Interaction EASE Concept
The i Interaction EASE concept was created in conjunction with Designworks and has a very "abstract" appearance. This is because the company wants the focus to be on the cabin, which was designed to "give passengers the feeling that they have already arrived at their destination while still on the way."
Looking past the marketing, the concept introduces a new look detection system. This system monitors passengers and uses A.I. to process "acoustic and visual information received from various sensors and interpret it according to the driving situation, time, location and vehicle signals". The system then uses this data to provide relevant information about what you are viewing. For example, the system may receive information about the restaurant you are looking at. This information may be displayed on the windshield, as the entire surface acts as a panoramic display.
The panoramic display itself has an augmented reality user interface with three different modes:
Study mode uses a gaze detection system and overlays information about what passengers are looking at.
Entertain mode is for watching movies
Ease mode is for providing a calm and relaxing environment and puts the seats in a "zero gravity" position, which, according to BMW, gives the passenger a sense of soaring in the air.
While this technology seems futuristic, BMW has confirmed that some i Interaction EASE features will be launched on the iNEXT when it goes into production. The automaker did not go into detail but said that in 2021 the model will come out with 5G connectivity.
Read More:
---
FCA Airflow Vision Concept
Billed as the next generation of premium transportation, the Airflow Vision was designed to appeal to customers who want a first-class travel experience and a high-tech interior.
The concept is loosely based on the Chrysler Pacifica Plug-in Hybrid, but it adopts a more dynamic exterior that "hints at the future of premium design." Minivan styling cues have been dropped and overall design is closer to a crossover.
The interior features premium leather and suede upholstery as well as copper accents. Rather than devoting space to three rows of seats like the Pacifica, the Airflow Vision serves as an open, airy space for up to four passengers:
FCA didn't go into many specifics, but the first row of the concept is packed with screens: there's a digital instrument cluster, a main infotainment system, a secondary lower display, two additional screens for climate control settings, and a final display for the front seat passenger. The second row also contains two more screens, as each rear passenger has their own entertainment system.
The concept is also stated to have advanced user experience tech meant to be easy to use and understand. Besides being intuitive, the interface is customizable and information from one screen can be shared with other passengers by simply swiping.
Read More:
---
Honda Augmented Driving Concept
Honda exhibited an Augmented Driving Concept car meant to bridge the gap between current vehicles and fully autonomous cars. The concept is a 2-door convertible with a speedster-style windshield and styling taken from the subcompact Honda E.
The interior is ultra-minimal with two rows of bench seats and no instrumentation or infotainment - the only point of interaction is the steering wheel:
In addition to steering, the Augmented Driving Concept's wheel also controls the throttle and braking (you push forward on the wheel to accelerate and pull it backward to slow down). You even start the car with the wheel by tapping the top of it twice.
Like just about any futuristic concept car nowadays, the Augmented Driving Concept does have levels of autonomy. According to Honda, there are eight levels of autonomous driving from primarily human-controlled to fully automated. The driver can switch between human-controlled and computer-controlled on demand, and the change-over appears to be initiated by swiping on the steering wheel.
Read More:
---
Mercedes-Benz Vision AVTR Concept
The Vision AVTR was designed by Mercedes-Benz in collaboration with the folks behind James Cameron's 2009 film, "Avatar," and its upcoming sequels.
The car is "inspired by the world of Pandora," the films' setting, and features technologies like biometric driver recognition based on heartbeat and breathing patterns; organic, recyclable battery technology; and "bionic flaps" - 33 flaps on the back of the car that respond to the driver and communicate to the outside world via gestures.
One of the ways the concept almost merges the human with the vehicle is through its biometric connection controls. There is no steering wheel, just a "multifunctional control element" that recognizes the person driving when they put their palm on it. Your palm can also become a space for the car to reach out to you by projecting a menu that then responds to your hand movements.
Read More:
---
Sony Vision-S Concept
Technology giant Sony has revealed a bold electric concept car called the Vision-S at CES in Las Vegas, to showcase its autonomous driving and in-car entertainment systems. The four-door saloon was unveiled at the tech show by Sony boss Kenichiro Yoshida, who said it "embodies our contribution to the future of mobility." It features a raft of technology that showcases 'the contribution Sony intends to make to realize a highly advanced autonomous driving society."
While it is unclear whether Sony has any plans to make its own cars or simply intends to develop technology to sell to existing manufacturers, Yoshida said that: "It's not an exaggeration to say that Mobile has been the mega-trend of the last decade. I believe the next mega-trend will be mobility."
The concept was developed and built with the help of partners including Magna Steyr, Bosch, Nvidia, and others. The only powertrain details that were shared indicate the concept is powered by a pair of 268 hp electric motors giving it a 0-62 mph time of 4.8 seconds, and a top speed of 149mph.
The key goal of the Vision-S is to showcase Sony's automotive-relevant technology. It has 33 sensors of varying types embedded within it; these can identify people and objects both inside and outside the car as part of a 'safety cocoon'. They include CMOS image sensors, which Sony claims offer high definition and high dynamic range while suppressing LED flicker, and Solid-State LiDAR.
Inside, the Vision-S features a number of Time-of-Flight (ToF) in-car sensors that can detect and recognize people within to optimize infotainment and comfort systems. The concept also features AI, telecommunication and cloud technology, all accessed via a large panoramic touchscreen that dominates the dashboard, and which Sony says is operated via an "intuitive user interface".
Read More:
---
Nissan e-4ORCE Electric Powertrain
Nissan rolled out a new dual-motor, all-wheel-drive EV powertrain that takes the name e-4ORCE. It's Nissan's first all-wheel-drive electric powertrain and is expected to reach showrooms first in a production version of the Ariya SUV concept (where it is likely to offer 300 miles of range).
Besides sending power to all four wheels, the system also is claimed to pay benefits in handling and ride, due to its ability to precisely control torque flow to, and brake regeneration from, each wheel. Regenerative braking for both the front and rear motors is said to provide smooth braking performance and advanced torque split across each axle aids in cornering ability.
Read More:
---
---