The 2021 Consumer Electronics Show (CES) was a virtual event this year. It ran from January 11th through the 14th. Our team has highlighted vehicles, concepts, and new automotive technologies unveiled at the show.
Autoshow editorial coverage provided by Eric Woodward and additional video/photography staff.
---
---
CES Details
"CES is the world's gathering place for all those who thrive on the business of consumer technologies. It has served as the proving ground for innovators and breakthrough technologies for 50 years — the global stage where next-generation innovations are introduced to the marketplace."
More details can be found on the official webpage for the show.
---
Technologies
---
BMW Next Generation iDrive and Displays
BMW is celebrating 20 years of iDrive by announcing brand new in-car displays and driver-vehicle interaction technologies. In 2004, BMW became the first car company to present a Head-Up Display unit projecting information onto the windshield in the driver's direct line of sight, in 2015 BMW launched the first production vehicles with Gesture Control.
The latest tech is a new iteration of iDrive that will launch in the new all-electric iX crossover. Just like the current iDrive system, you'll be able to control it via touch or the rotary controller. The 14.9-inch infotainment screen is bigger and more refined than the 12.3-inch screen BMW offers today. The new iDrive promises greater access to digital cloud services and increased awareness of the vehicle's physical surroundings.
Digital intelligence features and optimized sensors mean that BMW vehicles now have access to even more information. It will be able to recognize hazard warnings from other BMW vehicles on the road, predict the availability of parking spaces in certain situations, and enhance automated parking capabilities.
Read More:
---
GM BrightDrop EV Logistics Company
General Motors introduced an entirely new business - BrightDrop - offering EV delivery vehicles designed to improve logistic and service company workflows. BrightDrop's core product will be a line of battery-powered delivery vehicles. This range will include the just-introduced EV600 commercial van, which offers a maximum driving range of 250 miles:
The brand won't just be about vans. For CES, GM also virtually revealed the EP1, a self-propelled transport pallet designed to simplify the lives of delivery personnel:
Read More:
---
Mobileye Lidar, Radar, and HD Mapping
Mobileye is an Intel subsidiary working on autonomous vehicle technologies. At CES, they unveiled a three-pronged effort to improve scalability and safety.
This new approach includes their Road Experience Management (REM) mapping technology, a Responsibility-Sensitive Safety (RSS) and rules-based driving policy, as well as two distinct, completely redundant sensing subsystems comprised of cameras, radar, and lidar technology.
REM - Mobileye is taking a unique crowdsourcing approach to map generation, in which driving assist cameras inside of production vehicles send data to the cloud, where it is knitted together to form high-definition maps.
RSS- Mobileye's framework is based on mathematically-modeled rules—safety musts with which any safe human driver is likely familiar. The five rules in Mobileye's RSS systems are:
Don't hit the car in front of you.
Don't cut in recklessly.
The right of way is given, not taken.
Be cautious in areas with limited visibility.
If you can avoid a crash without causing another one, you must.
Read More:
---
Panasonic A.I. Enhanced Augmented Reality Head-Up Display
During this year's Consumer Electronics Show, Panasonic's automotive branch showcased a new Augmented Reality (AR) head-up display system. It uses AI technology from Panasonic's SPYDR cockpit domain controller to render both near-field and far-field content when it comes to vehicle information (like speed), but also objects, pedestrian detection and of course mapping/route guidance.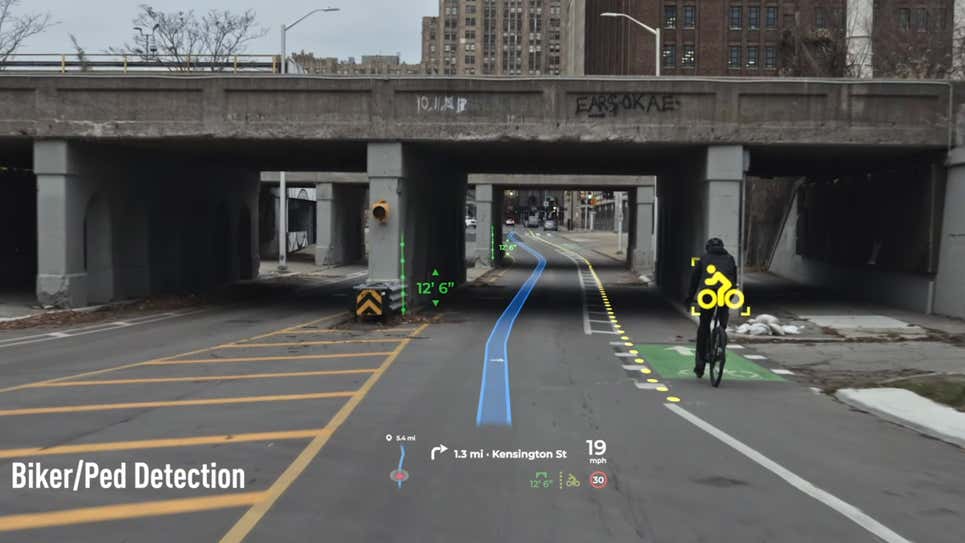 The goal here is to keep drivers more engaged and informed. The new AR HUD system projects 3D, AI-driven key information directly into the driver's line of sight, which should also help reduce driver distraction. Key features include eye-tracking technology, advanced optics, AI navigation accuracy, vibration control, real-time situational awareness, 3D imaging radar, 4K resolution, and the system's overall compact size. Among these systems, we find the advanced optics particularly interesting, as they produce an expanded field-of-view (beyond 10 by 4 degrees) for a virtual image distance of 10 meters (32.8 feet) or greater.
Read More:
---
GHSP Multifunction Controllers / GHSP Grenlite UV-C Light Treatment System
Automotive systems supplier GHSP is launching a dual-stack rotary controller and a multifunction controller said to be making their way into vehicles soon. They are also launching a Grenlite ultraviolet light treatment system intended to protect personal vehicles from viral infections.
Multifunction Controllers
GHSP's multifunction controllers are intended to "enable drivers to intuitively reach down and gain control of their car without having to take their eyes off the road."
The multifunction controller will work with touchscreen technology, balancing a simple and uncluttered interface with the tactile feedback of physical controls. The familiar controller can be twisted, pressed, nudged and allow for control of everything from audio settings and volume to climate systems to autonomous driving technology, transitioning seamlessly from task to task in a streamlined manner.
The dual-stack rotary controller can replace an entire bank of buttons, a traditional control wheel and a shift lever. When the driver starts the car with a biometric fingerprint sensor on the controller's surface, a second, motorized knob rises concentrically from the main wheel.
The two knobs operate independently - GHSP envisions the upper knob being used for drive controls (shifting between Park, Drive, Reverse, etc.) and safety related systems. This top knob features monostable rotation, meaning it returns to center after being twisted to select. It is also demonstrated to tie in with certain autonomous and semi-autonomous driving systems, shown retracting when its conceptual host vehicle enters self-driving mode.
The lower knob is reserved for infotainment commands, much like the previous multifunction controller. This wheel has full 360-degree rotation, can be pressed to make selections and features a different texture and physical separation from the upper controller to prevent accidentally grabbing the wrong knob.
Grenlite UV-C Light Treatment System
GHSP also debuted a Grenlite ultraviolet light treatment system at CES 2021 that can disinfect surfaces using UV-C light. Pronounced "green light," the line of treatment products kill a claimed 99.9% of viruses and bacteria on exposed surfaces. This includes harder-to-kill pathogens such as Clostridium difficile (C. diff) and the human coronavirus.
The technology is now coming to personal vehicles where it will be able to automatically recognize when cabin surfaces or controls have been touched and dose the area with UV-C light to "clear the air or surface of harmful pathogens," according to the company's statement. Like almost every new vehicle technology these days, the Grenlite system is a connectable one, able to link up to cloud-based monitoring for precision control of each unit and information gathering that can boost treatment effectiveness. It can fit inside personal vehicles, as well as be scaled up to fit commercial and service vehicles, including buses and ambulances.
Read More:
---
Concepts
---
Cadillac Autonomous PAV Pod Concept
GM's self-driving electric concept, revealed at the virtual CES technology show, is part of the Cadillac Halo portfolio of potential future vehicles. The PAV (personal autonomous vehicle) is meant to provide a social space for friends and family to congregate on their way to an event.
Once inside, passengers' vital signs are read via biometric sensors in the seats to adjust heat, humidity, aromatherapy, and lighting. Passengers can use voice control and hand gestures to control the experience, and there's a way to control the interior camera to take photos so that everyone is in the picture.
While the sides of the vehicle are windowless, there's a huge glass roof showing the world above. From a video shared by GM, it looks like a screen embedded in the seating area displays the route, while a retractable display up front welcomes passengers and shares details about each passenger's biometrics and how long until the party reaches its destination.
Read More:
---
Vehicle Debuts / Redesigns
---
2021 Jeep Wrangler Unlimited Plug-In Hybrid
At last year's CES, Jeep announced the 4xe nomenclature they planned to use for their new plug-in hybrid models. This year they are showcasing the production vehicles. US market PHEV models will eventually include the Jeep Wrangler Unlimited and the Jeep Renegade.
The Wrangler 4xe models will make 375 hp and 470 lb-ft of torque by combining a 2.0L turbocharged I-4 engine with an engine-mounted motor-generator unit, and a motor-generator unit integrated into the ZF 8P75PH 8-speed automatic transmission. These motor-generators will draw power from a 400-volt, 17-kWh, 96-cell lithium-ion, nickel manganese cobalt battery pack.
The 4xe will allow the driver to select different driving modes that will optimize the hybrid powertrain in particular situations.
Read More:
---
2021 Jeep Grand Cherokee L
The Grand Cherokee midsize SUV is being completely redesigned and the first variant Jeep unveiled is the Grand Cherokee L - a lengthened version with a third row of seats. This new Grand Cherokee L, and the two-row version that will follow later this year, are built on a completely new platform not used by any current product. The new unibody platform is composed of 60% high-strength steel, while aluminum is used for the hood, hatch, shock towers and front subframe to help keep weight down.
Four trim levels will be offered on the Grand Cherokee L - a Laredo base trim followed by Limited, Overland and Summit. The Overland trim is available with an Off-Road Group package that adds Quadra-Drive II, skid plates, and 18-inch wheels with all-season tires.
The styling is still immediately recognizable as a Grand Cherokee, but the front end is more upright, the headlamps are sleeker (like the new Wagoneer), and the lower grille opening is much larger than before. The side view is even more familiar, but it does appear longer and uses unique chrome DLO trim that traces the upper window edges and connects back to the rear windshield.
Out back there are slim LED taillamps, a license plate area that has been dropped further down the tailgate, and a more aggressive rear valance that incorporates chrome trim and pentagonal exhausr outlets.
The new Grand Cherokee will be powered by familiar engines - a base 3.6L Pentastar V-6 will make 290 hp / 257 lb-ft of torque, an optional 5.7L V-8 will make 357 hp / 390 lb-ft, and a 4xe hybrid model will round out the lineup later in 2021. The 3.6L V-6 and the 5.7L V-8 will both be tied to an 8-speed automatic transmission. Towing capacity for the 3.6L V-6 is 6,200 lbs. while the 5.7L V-8 can handle 7,200 lbs.
Three different 4x4 systems are available - a base single-speed automatic system called Quadra-Trac I, an automatic Quadra-Trac II system that adds a low-range gear set, and a Quadra-Drive II system that adds an electronically controlled limited-slip rear differential. All the Grand Cherokee's four-wheel-drive systems can disconnect the front axle automatically when not needed to boost fuel economy.
The standard multi-link independent suspension offers 8.5 inches of ground clearance with approach, breakover and departure angles of 20.6, 18.2 and 21.5 degrees, respectively. An available adjustable air suspension has a normal ride height of 8.3 inches, but can be raised to 10.9 inches in the highest off-road mode - when raised to this height, the approach, breakover, and departure angles are 30.1, 22.6, and 23.6 degrees for the Overland trim while the top-level Summit trim has a slightly worse approach angle of 28.2 degrees because of a different front bumper. The air suspension has also been revised to lower more quickly by lowering both ends simultaneously, rather than one at a time.
The dashboard design is reminiscent of the new Wagoneer (though with fewer screens). Standard equipment will include a 10.25-inch digital instrument cluster and a 10.1-inch infotainment screen while a 10-inch head-up display will be optional. The infotainment system uses the latest UConnect 5 software while the digital cluster is highly customizable and can display navigation, off-road data, and even the feed from a night vision camera.
In addition to metal dash accents, the Grand Cherokee L can be had with real wood and leather trim, and a McIntosh sound system featuring a menu with the brand's signature green and blue logo and VU needles. The other big change is the third row of seats in the Grand Cherokee L model - opting for the 2nd-row bench or as bucket will allow for either seven or six passengers.
Read More:
---
2022 Mercedes-Benz EQS Electric Sedan
The upcoming 2022 Mercedes-Benz EQS will feature the new MBUX Hyperscreen infotainment system. The EQS is scheduled to go on sale in the first half of the year, equipped with the optional MBUX Hyperscreen comprised of several individual displays mounted in a single glass-covered housing.
This unified assembly stretches clear across the dashboard, nearly from one A-pillar to the other. MBUX Hyperscreen's multitude of displays spans about 56 inches in total and provides passengers with around 377 square inches of real estate to play with.
Advanced OLED panels are used for the center and passenger screens, providing brilliant colors and inky blacks. That display for the front passenger also supports up to seven profiles so everyone in the family can customize it to their liking. And when no one is seated in the passenger's chair, the screen displays decorative digital art to keep things neat.
Read More:
---
2022 Cadillac Celestiq Electric Sedan
Cadillac is only teasing the Celestiq at this point, but the teasers revealed a top-down shot showing that the car will share some key cues with the Lyriq crossover EV. Most obvious is the rear with the boomerang taillights and fastback roof, which is a glass unit separated into four pieces. Each piece can be individually adjusted for transparency, and it appears they can be illuminated as well.
Read More:
---
---