The 2022 Consumer Electronics Show (CES) included a mix of in-person and virtual product releases this year. It runs from January 5th through the 7th. Our team has highlighted vehicles, concepts, and new automotive technologies unveiled at the show.
More than 2200 exhibitors will be at CES this year but overall, the show is scaled way down, with many major companies deciding that an in-person show is not the right move to start off 2022.
Autoshow editorial coverage provided by Eric Woodward and additional video/photography staff.
---
---
CES Details
"Over 2200 exhibitors are confirmed to exhibit in person at CES 2022. In the last two weeks, 143 additional companies have signed up to exhibit in-person. Construction of exhibitors' show floor space is well underway and soon attendees will be able to see and experience the latest tech innovations. Key industry audiences are also showing strong commitment: 195 of the Fortune Global 500, 77 of the Interbrand 100, 66 of the top retailers, leading US and global media and attendees from 159 countries are already registered and joining us in Las Vegas. We're ready to bring the industry back together to experience the next generation of innovation."
More details can be found on the official webpage for the show.
---
Technologies
---
Amazon FireTV integration
Amazon has been on the edges of automotive for a while. It's integrated Alexa into a few automakers' cars, but now, its popular FireTV brand will make its way into the cabin, as well.
Amazon announced that it will expand its FireTV integration to Ford and Lincoln vehicles. Prior to the announcement, it was only available in Jeep's Grand Cherokee, Grand Wagoneer, and Wagoneer models. It utilizes a car's built-in cellular connection to deliver streaming content to every screen in the vehicle, although main-screen use is disabled unless the car is parked. Content can be downloaded ahead of time, in the event reception becomes an issue on a long road trip.
Read More:
---
Android Automotive Infotainment Updates
Android Automotive is Alphabet's name for its infotainment operating system, which allows automakers to create telematics interfaces that connect directly to the tech giant's litany of services, whether it's the Play Store or good ol' Google Maps. This year's Android Automotive announcements at CES were all about deepening cars' connection to this ecosystem.
On the hardware front, Google announced a new USB-A wireless adapter that can put wireless Android Auto within reach of owners of older vehicles. On the software front, Android Automotive OS is getting more powerful, by way of greater third-party app integration and the introduction of YouTube to Volvo vehicles (with the proper safety protocols, fear not). We'll also get a look at the next generation of Android Automotive OS, powered by Qualcomm's Snapdragon architecture, which will arrive on the Polestar 3 later this year and carry some massive improvements to overall performance.
Read More:
---
Blink Charging Products and Vehicle 2 Grid Technology
EV charging network, Blink, kicked off this year's Consumer Electronics Show (CES) by sharing news of seven new charging products, the largest unveiling in its thirteen-year history. Blink products include multiple versions of fleet and home chargers, as well as new public chargers and software for customers.
New Home and fleet chargers – HQ 200 Home Charger (Left) and the MQ 200 Fleet charger (Right) / Source: Blink Charging Co.
The first new charging product is the HQ 200, Blink's next generation of home chargers. The 50 amp charger comes in two models – The HQ 200 basic and the HQ 200 Smart, which is also Wi-Fi enabled. Both versions feature Vehicle-to-Grid (V2G) technology allowing you to send energy back to your home or grid with the proper electrical setup.
The new charger also features load-sharing capabilities, meaning multiple EV's can charge at your home on one circuit. With a NEMA Type 3R plug and a lockable SAE J1772 charger, installation should be relatively easy.
A commercial counter to the HQ 200 is the MQ 200, a similar 50 amp charger designed for fleet and multi-unit applications, offering charge rates of 9.6 kW. This charger features a fully-integrated fleet management portal, and local load management across two or more chargers.
What's most interesting about the MQ 200 is its Plug & Charge capability, allowing for the charging station to identify an EV and its encrypted account through the plug itself, alleviating the need for an app or charge card.
In addition to the private chargers listed above, Blink has introduced two new public charging solutions. The first is the DC Wall 50 kW charger, a compact and lightweight DC fast charger that can be easily installed on a wall or as a pedestal.
This new DCFC features 150 amps of output and V2G [Vehicle 2 Grid] technology, and can charge two EVs simultaneously through its CCS ports. Unfortunately, the DC Wall Charger doesn't come with Plug & Charge, so a member card, RFID credit card, or mobile app is required.
Blink's new Vision IQ 200 will combine EV fast charging with ads on either one or two 30″ LCD screens, offering revenue shares for both charging and advertising. The Vision IQ 200 is equipped with one or two 80-amp Level 2 chargers delivering up to 19.2 kW charge speeds, plus 4G LTE and Wi-Fi connectivity.
In addition to new hardware, Blink has also introduced new software solutions for its customers. This includes a Fleet Management Portal which offers fleet managers a new dashboard to track EV charging and load management, charger status, as well as the status of vehicles and drivers. Real-time tracking should help future fleets run at their most efficient pace.
Lastly, the company will introduce a new Blink Mobile App designed to make both public and home charging easier. Customers can find public chargers nearby, reserve their spot, and save their favorites for easy access. At home, Blink customers can control their charger from anywhere and schedule charges to take advantage of off-peak hours.
Read More:
---
Gentex Nanofiber Sensing Technology
Automotive supplier Gentex might be the reason your next car automatically switches to recirculation mode, or it might be the reason an autonomous taxi can tell somebody left a bomb inside it.
Gentex came to CES 2022 to show off its nanofiber sensing technology. In short, a sensor attaches these diminutive fibers to electrodes that can detect specific chemicals, creating an electrical signal that can be used to determine what the substance in question is. It could automatically switch your car's HVAC when it detects you're driving behind a diesel truck, but in more serious applications, Gentex's nanofibers could possibly detect explosives. This stuff isn't quite ready for the spotlight just yet, but the CEO told us that initial applications will likely come within the next three years.
Read More:
---
Hyundai PnD Autonomous Pod Concept
Hyundai's presence at CES 2022 is less focused on cars and more focused on the idea of how society will change as we introduce new methods of mobility. The Plug and Drive (PnD) module is an electric pod concept that sports 360-degree steering and electric power.
It can be used to help logistics robots safely deliver cargo, or it can be sized up to a single-person pod that can greatly improve independence for people of limited mobility. The Drive and Life (DnL) system is similar to PnD, and it can be used for guide bots and other manned and unmanned applications. It might be a little more forward-thinking than just a flashy autonomous car, but it's nice to see automakers step back and envision more big-picture stuff like this.
Read More:
---
BMW Theater Screen, BMW Art, and BMW iX Flow Color-Changing Paint
In addition to color-changing paint technology, BMW revealed a new concept for rear vehicle entertainment at CES.
BMW Theater Screen
The "Theater Screen" is a 31-inch 8K ultra-wide display that those in the backseat can enjoy movies or TV on. BMW says the idea is to provide a cinema-like experience with the ultra-wide screen, as the display is in 32:9 format. This isn't just a concept either, as BMW appears to be fully onboard for bringing such a screen into its production vehicles.
The screen extends out of the headliner via a rotary movement, and stretches from one headrest to the other. You'll be able to adjust the angle of the display to fit your angle of recline. BMW says it's partnering with Amazon, so you should expect the screen to operate like a Fire TV. You'll be able to control the screen via touch operation or via touch pads that BMW will integrate into the rear doors. If the content you're watching doesn't fit the format, BMW says you can choose to fit it to the screen or zoom and trim.
BMW Art
Beyond the big screen, BMW also announced a new "Digital Art Mode" for its iDrive infotainment system. Coming to BMW vehicles in 2022, Digital Art Mode will allow you to set your infotainment into different art themes. Designed by Cao Fei, a Chinese multimedia artist, the themes influence screens in the car and the mood lighting that accompany them.
BMW iX Flow Color-Changing E-Ink Paint Concept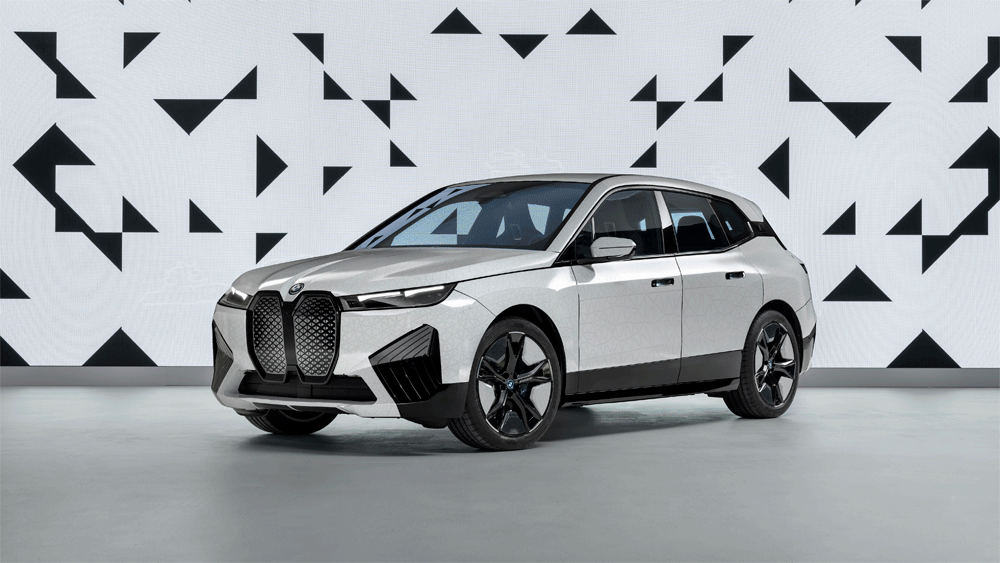 BMW also showed off its wild imagination by unveiling a radical concept called the iX Flow. Based on the iX SUV, the Flow is wrapped in something called E Ink—the material used in the displays of e-readers like the Kindle—which allows it to change color in the blink of an eye.
At the moment, the iX Flow can only shift through shades of white, grey, and black, but BMW suggested that adding vivid colors isn't out of the realm of possibility. The E Ink wrap consists of millions of microcapsules containing negatively charged white pigments and positively charged black pigments. This microcapsules—which have a diameter equal to the thickness of a human hair—can be stimulated by an electrical field to bring different amounts of each pigment to the surface of the microcapsule, changing the shade of the car.
Read More:
---
Concepts
---
Indigo Flow / Flow Plus
Indigo used CES to unveil two new electric vehicles - named the Flow and Flow Plus, the models are designed to be spacious and affordable EVs for the rideshare and delivery market.
The company didn't say much about the models, but one is a streamlined delivery van while the other is a sleek passenger transport. Both feature a similar design, but the passenger-focused model has rear windows and a massive panoramic glass roof.
We can also see large sliding doors, digital side mirrors, and slender headlights. They're joined by plastic body cladding, pronounced wheel arches, and full-width brake lights.
Moving into the cabin, there's a central driver's seat and a high-tech digital instrument cluster that flows into adjacent displays. The model also sports a three-spoke steering wheel, plenty of storage space, and what appears to be a wireless smartphone charger.
Indigo said the models are equipped with a 40 kWh battery pack that will allow for a range in excess of 250 miles on a single charge. The Flows are also equipped with the company's "robotic wheels," which are billed as the "world's first all-in-one powertrain with simultaneous in-wheel electric propulsion and [an] electric active suspension." Each apparently produces 30 hp and 184 lb-ft of torque.
CEO Will Graylin explained their benefit as he said, "Without the transmission and motor between the wheels, [the] Indigo Flow has a low, flat floor that provides more cargo space than any vehicle of its size. And the active suspension in each wheel makes for an amazing ride comfort at an affordable price that people will love."
Read More:
---
Vehicle Debuts / Redesigns
---
Stellantis Virtual Auto Show
Stellantis is hosting a 'virtual auto show' on their own dedicated site for the 2nd year in a row. The site will allow visitors to explore several production vehicles and host the reveal of the new all-electric Chrysler Airflow Concept.
Read More:
---
VinFast Full Lineup
VinFast chose the Consumer Electronics Show to introduce the VF5, VF6, and VF7 SUVs, expanding its fully electric range to a total of five vehicles. The Vietnamese company that is planning on entering the US market has also renamed the existing VF e35 and VF e36 to VF8 and VF9, simplifying things for customers.
As you can tell by their names, the electric SUVs are covering a wide spectrum of segments. The VF5 (A-SUV), VF6 (B-SUV), VF7 (C-SUV), VF8 (D-SUV), and VF9 (E-SUV) were designed by Pininfarina and Torino Design. All of them feature the characteristic wing-shaped LED lighting signature of VinFast, sculpted bodies, and other styling details for a family look.
In terms of connectivity, the SUVs will integrate infotainment tech that allows users to stream videos, play games, shop online, or control their smart home devices under the Smart Service subscription package. While we don't have pictures of the interior of the VF5, VF6, and VF7, we have already seen the massive 15.4-inch infotainment touchscreens of the VF8 and VF9.
VinFast also announced a battery lease program with two subscription plans. "Flexible" will allow 300 miles (500 km) per month under a certain fee with extra cost for extra miles, while "Fixed" will have unlimited miles. In both of them, the cost of driving a VinFast EV is "approximately equal to gasoline costs in each market" with the company covering all expenses on battery maintenance including free battery replacement once charging/discharging capacity falls below 70%.
Read More:
---
---