The 2023 Consumer Electronics Show (CES) includes a mix of in-person and virtual product releases (similar to last year's show). The 2023 show offered press days on January 3rd and 4th with additional coverage running through January 8th. Our team has highlighted vehicles, concepts, and new automotive technologies unveiled at the show.
Detailed coverage for the show can also be found by loading the 2023 Consumer Electronics Show saved workspace in our Vehicle Information Center.
Autoshow editorial coverage provided by Eric Woodward and additional video/photography staff.
---
CES Details
"CES is the world's gathering place for all who thrive on the business of consumer technologies. A high-level business event that touches all industries, it's the place where business gets done. A platform for innovators of all sizes to build their brands, CES is where every major technology company on the planet participates in some way - by exhibiting, speaking, sponsoring, attending or holding business meetings."
More details can be found on the official webpage for the show.
---
Technologies
---
Audi VR Holoride Technology
Audi is the first car manufacturer in the world to bring virtual reality entertainment by holoride to series production. At CES 2023, visitors can experience rides in the rear of an Audi e-tron and e-tron Sportback. The Audi Hub at the Waldorf Astoria will be their starting point.
Behind holoride is a new technology that adapts the virtual content to the car's driving movements in real time. For example, if the vehicle takes a right turn, the spaceship in the virtual world will also fly to the right. If the car accelerates, the spaceship speeds up, meaning a ride in the car becomes a multimodal gaming event. An added bonus is that by synchronizing the user's visual and felt experiences, holoride reduces the risk of motion sickness, which many passengers experience when watching movies or other dynamic content in a moving car.
In-car entertainment redefined
Audi initiated the development of this innovative VR or XR (extended reality) technology for backseat passengers, presenting it for the first time at CES 2019. The novel form of entertainment received numerous trade show awards. The tech entertainment start-up company holoride went on to advance the technology and commercialize it for different manufacturers. After launching the platform in Germany in fall, holoride will enter other European markets in early 2023.
"Integrating holoride into our models means we are redefining in-car entertainment," said Giorgio Delucchi, Audi's Head of Digital Experience/Business. "Combining real-time vehicle data with virtual content creates a completely new type of experience. Vehicle digitalization is an essential building block in the ongoing transformation of the interior into a third living space. This highly personal space merges living and working spaces into one. This way, holoride serves as another proof point in our roadmap."
Many Audi models are already holoride-capable
To enjoy the holoride experience, passengers need the "Pioneers' Pack" starter kit and a holoride-capable Audi vehicle from the A4, A5, A6, A7, A8, Q5, Q7, Q8, Q8 e-tron, Audi e-tron, Audi e-tron Sportback, and Audi e-tron GT model lines. The model year 2023 vehicle (production date 25/22 and later) and the third-generation modular infotainment kit (MIB 3) are prerequisites. The Audi models mentioned are holoride-ready across the European market, Canada, the United States, Japan, and China. The availability of holoride itself may be different depending on the individual market. A virtual reality headset enabled for holoride must be connected wirelessly to the vehicle via Bluetooth Low Energy (BLE).
Action-packed VR adventure and a retro game
At launch, holoride users can immerse themselves in two blockbuster games and a range of interactive content. In the VR game "Cloudbreakers: Leaving Heaven," players control Dev, his scavenger robot Skyjack, and I.O.N.E. through the hostile skies of Stratus, collecting scrap metal and chasing AI guards, all while traveling to their actual destination.This is accomplished through holoride's "Elastic Content": the game content adapts to driving movements, journey time, and driving route.
Read More:
---
Bosch RideCare Smart Camera System
Bosch is expanding its security footprint in the ride-hailing economy. The global supplier introduced Tuesday evening as CES 2023 kicked off in Las Vegas a new connected smart camera and accompanying 24-hour support line for drivers of ride-hailing apps. Bosch said it's working with Gridwise, an app for rideshare and delivery drivers, to conduct user research and ensure it's the right fit for the market.
The device designed with ride-hailing drivers in mind, includes an interior and exterior camera and a lighting element on the front to let drivers and riders know the service is active.
The product also comes with a wireless SOS button in the vehicle that the driver can press to activate an emergency call to a Bosch call center. The emergency call operators are available live 24 hours a day and can access a camera view from the RideCare companion device to determine if emergency services need to be contacted.
"What takes the Bosch RideCare companion beyond a simple dashcam is that it is paired with a service that provides active help by trained call center specialists when required," Christoph Hartung, president of cross-domain computing solutions for Bosch said in a statement.
Read More:
---
Harman Ready Vision, Ready Care, and Emergency Detection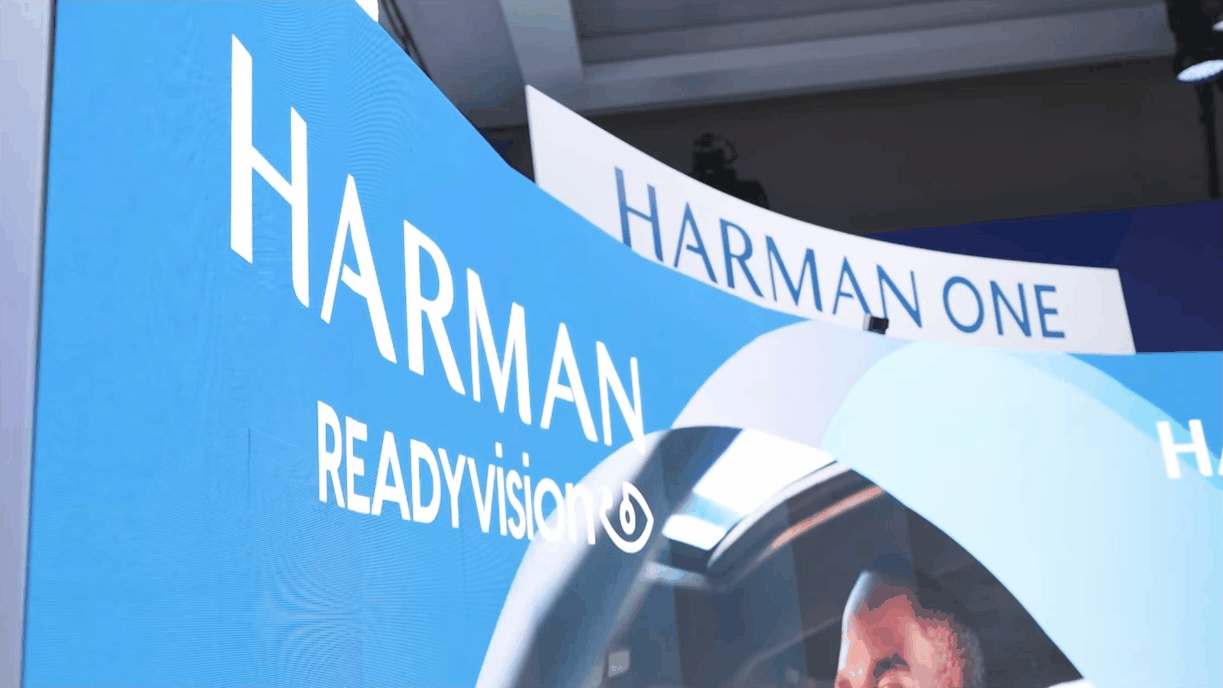 Harman Ready Vision: serves as an alternative to the growing number of screens inside modern vehicles. It takes the shape of a large color head-up display with traditional hardware with an edgeless display and a large field of view. New here is the augmented reality software, which provides "the right content, at the right time, with the right level of visual detail." Or, simply put, Harman wants to give the drivers only the information they during driving in a form that is easy to read and understand.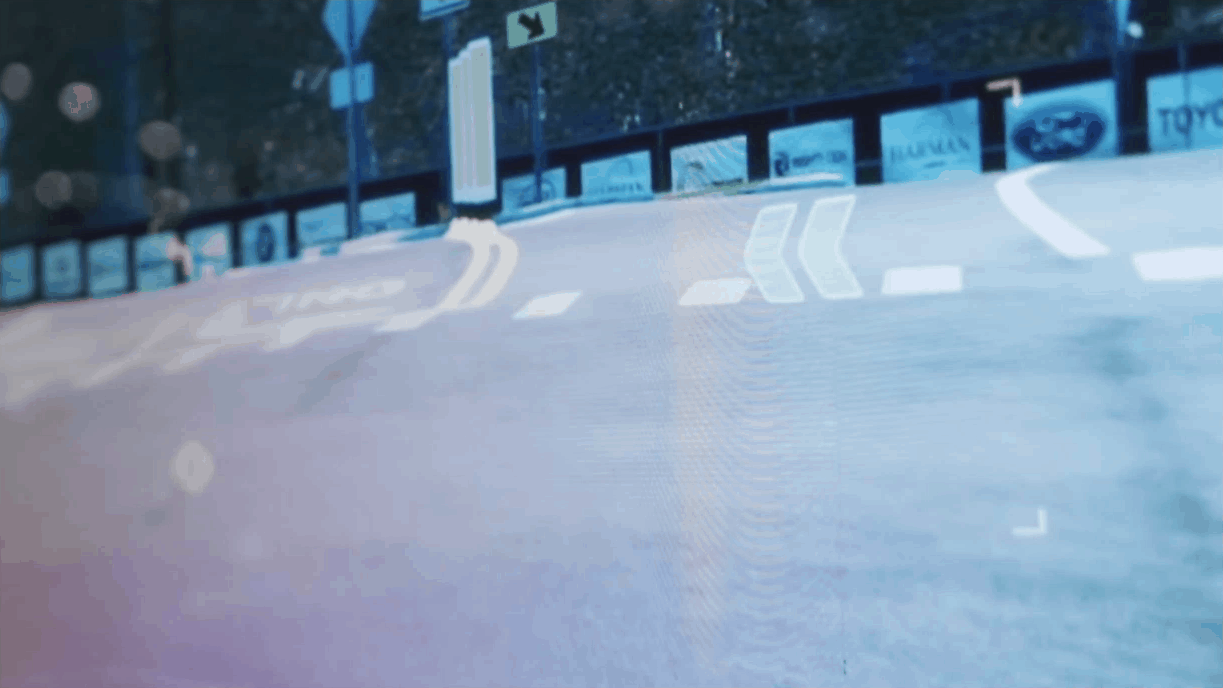 Harman Ready Care: is "the industry's first closed-loop interior" which follows the driver's level of focus and attention on the road. Using artificial intelligence and machine learning, the system compares the driver's behavior between focused and distracted states and gives alerts to help the driver mitigate dangerous situations on the road. Interestingly, there are sensors that contactlessly measure the driver's vitals to determine their state of well-being.
Read More:
---
Hyundai Mobis: M.Vision TO/HI
At CES 2023, Hyundai Mobis announced it will prioritize providing an integrated hardware and software mobility platform over its legacy business of producing individual vehicle parts. Hyundai Mobis shared future purpose-built vehicle (PBV) concept models in addition to 19 newly-developed, mobility technologies.
Their new swivel display technology and concept rear suspension technology were both honored with the CES 2023 Innovation Award: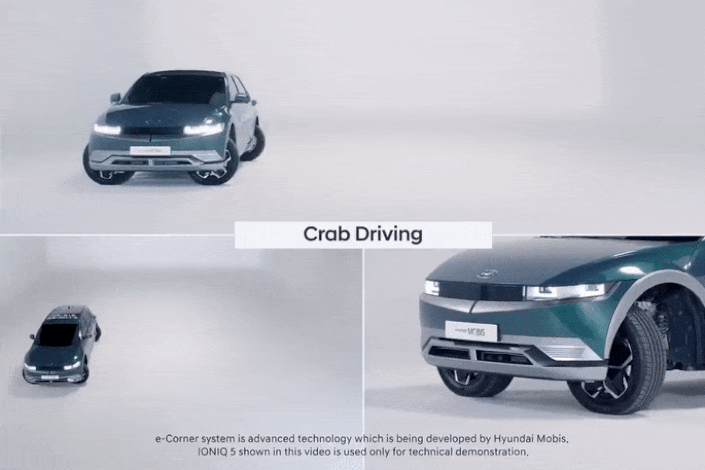 The company also hosted a press event on the future direction of the business and its carbon-neutral initiatives.
Read More:
---
Magna Technologies
Magna displayed future-ready solutions at CES 2023 including the first public look at the company's morphing surfaces using their Mezzo Plus front panel. This aerodynamic system can change the exterior shape of a vehicle and adapt to improve efficiency and functionality:
The company also showcased a new SmartAccess solution that eliminates the need for a b-pillar, improving accessibility to the vehicle cabin.
Other Magna technologies displayed at CES include:
Read More:
---
Marelli Smart Surface Solutions
Those visiting Marelli's hospitality suite at CES experienced the company's latest technology driving vehicle personality and performance. Marelli presented their latest concept models and digital configurators.
Customers can configure their own vehicles, choosing from a curated selection of lighting, sensing, electronics, and interior options featured in Marelli's Digital Design Studio. Users will have the option to select their features from designated personality styles or create their own designs.
The Marelli showcase also highlighted Smart Surface solutions that enhance vehicle personality and user experience. Visitors explored the natural meeting point of cutting-edge electronics and the highest standards for interior design. Realized through the Digital Design Studio, the material collection display, and the interactive cockpit demo, visitors will be able to experience interactive, informative, and decorative options.
Interactive smart surfaces provide a seamless and optimal solution for software integration into the vehicle's interior, providing a unique expression and enhancing function and style. This option also greatly enhances in-cabin safety, providing voice recognition options and eliminating mechanical buttons, replacing them with haptic switches. Informative smart surfaces provide customizable information and alerts to and from the driver or passenger without compromising aesthetics. Decorative smart surfaces utilize illumination to take the cabin to the next level of sophistication and broaden styling options, providing a signature look that can range from luxury to casual or cool to warm.
Read More:
---
Nvidia GeForce Now - In-Vehicle Streaming Games
Nvidia GeForce Now is coming to an unexpected new platform: cars. The cloud streaming service will start rolling out in select internet-enabled vehicles, with three partners announced during Nvidia's CES 2023 showcase.
GeForce Now is a popular gaming subscription service that allows players to stream games from the cloud. Nvidia expanded the service's functionality and reach over the past few years, even bringing it to Samsung smart TVs as a native app. The service's latest expansion will take the service to the open road.
A video accompanying the announcement shows a driver loading up the GeForce Now app via a screen in a car, clicking on Rocket League, and playing it with a connected gamepad. Nvidia notes that no special equipment is required to get the service running in a vehicle.
Three partners will add GeForce Now to their vehicles to start: BYD, Hyundai Motor Group, and Polestar. All three companies are currently working on integrating the service, with no other partners named.
The move is part of Nvidia's vision of the future which it predicts will see car interiors turning into "mobile living spaces." The company is careful to note how it expects drivers to play in the car though, noting that it sees games being played while an electric car charges or while waiting to pick up a family member. The video also shows kids playing Rocket League on backseat screens during a drive, which is perhaps the more practical use case.
Nvidia isn't the only company looking to bring games to cars - Tesla recently gave drivers the ability to play Steam games inside of their vehicles.
Read More:
---
ZF Heat Belt
At the 2023 Consumer Electronics Show in Las Vegas, auto supplier ZF unveiled their 'Heat Belt' — basically a heated driver's-side front seatbelt. The ZF Heat Belt is intended to keep occupants warm without having to heat the entire cabin. This can potentially improve the overall driving range during cold weather. As far as future vehicles that might have this innovation, ZF said no automaker has signed on yet.
Woven into the Heat Belt are conductive wires that warm up to about 104 degrees Fahrenheit when activated. ZF says the wires add minimal thickness to the belt and that it works with existing seatbelt hardware. When combined with a heated seat and steering wheel, it could improve the cold-weather range of an EV by up to 15%.
Read More:
---
Vehicles / Concepts
---
Polestar 3 Electric SUV
The Polestar 3 will arrive packed with technology. That includes an advanced driver monitoring system (DMS) designed with Smart Eye. The system will track the driver to ensure they are paying proper attention to the vehicle. Polestar demonstrated this technology at the 2023 CES event in Las Vegas.
Show visitors were able to experience the DMS's dual-camera setup that monitors the driver's head, eye, and eyelid movements. Polestar also demonstrated how the AI software can scan and detect the driver's state in real time.
The system features two closed-loop cameras that feed into an Nvidia-powered central computer. The system will trigger warning messages and sounds if the driver is distracted, drowsy, or disconnected. The system can even engage the emergency stop function. The new DMS is part of a broader technology set that includes lane keep assist, adaptive cruise control, and more.
Read More:
---
Ram 1500 Revolution Electric Crew Cab Concept
Previewing an upcoming production Ram 1500 BEV, the Ram 1500 Revolution concept presented at CES 2023 shows off a slippery design, loads of high-tech features, and a highly configurable interior with third-row jump seats.
The Ram 1500 Revolution BEV concept unveiled at CES 2023 is our first look at Ram's first electric pickup, featuring smooth bodywork and a stretched cabin.
The interior has a rail system allowing for customizable seating arrangements, and the powered mid-gate includes third-row jump seats and a pass-through to carry objects up to 18 feet long.
Electric motors on the front and rear axles provide all-wheel drive, and Ram claims the steering wheel can retract into the dashboard for Level 3 autonomous driving.
Read More:
---
Volkswagen ID.7 Electric Sedan
The Volkswagen ID.7 joins VW's US range and is making its camouflaged debut this week at CES in Las Vegas. This is the first time VW has officially revealed the ID.7 nameplate, and although the final production body is covered up in what they're calling "digital camouflage," the size and scope should help shed some light on exactly what the ID.7 will look like when it arrives.
The ID.7 uses the same modular electric drive matrix platform (MEB) found throughout Volkswagen Group's EV range, but it's no compact like the ID.4. The ID.7 has a wheelbase of 116.9 inches and it stretches out to a total length of 194.5 inches. That makes this EV just over three inches longer than the Arteon, and VW promises a roomy and upscale interior thanks to that extra length.
As part of VW's push to upgrade its interior technology, the ID.7 promises a new 15.0-inch touchscreen, illuminated touch sliders, an augmented reality head-up display, and even digitally controlled air vents that automatically adjust in-car temperatures depending on how hot or cold it is outside. "Hello Volkswagen" voice controls will also be available in the ID.7 to control basic functions.
Read More:
---
Volvo EX90 Electric SUV
Volvo displayed the new EX90 at CES in Las Vegas - the venue was chosen as an opportunity to show the all-new SUV in North America for the first time and highlight the technology Volvo says makes the EX90 its smartest vehicle yet.
The EX90 is an all-electric, seven-passenger SUV that Volvo says represents a new era for safety and a more sustainable lifestyle. First revealed last November in Stockholm, Sweden, it leverages technologies developed with Google and Luminar, which all three companies will demonstrate later this week. At the heart of these technologies is a new core computer system designed to understand the driver and their surroundings, getting smarter and safer over time as it learns from new data and receives over-the-air updates.
Eight cameras coupled with a mixture of sensors, including one long-range lidar, five radar, and 16 ultrasonic sensors, are designed to respond and react faster than humanly possible. The lidar, developed by Luminar, can sense the road and see small objects more than 600 feet away day or night, even at highway speeds. It combines with Volvo's new driver understanding system that utilizes a capacitive steering wheel and two camera-based gaze sensors to determine if the driver is alert, distracted, or sleepy.
Read More:
---
Asahi Kasei: AKXY2 Concept
Asahi Kasei showcased their AKXY2 concept vehicle and in-vehicle solutions such as Active Road Noise Cancellation, millimeter-wave radar for child presence detection, and drunk driving prevention.
The AKXY2 concept showcases "the company's cross-divisional expertise throughout the entire value chain. The new concept car is equipped with technology that touches the senses and ensures the highest functionality while proposing solutions to reduce the environmental impact of automobiles. The concept behind AKXY2 collects the evolving needs of car occupants into themes revolving around Sustainability, Satisfaction and Society – the "3 S's" that will change how occupants use cars and how they will more thoroughly integrate into our lives."
Other Innovations to Shape Future Mobility
Senseair Alcohol Sensor: to address the recent legislation in the Infrastructure Investment and Jobs Act, this highly accurate touch-free system can detect driver impairment in real time and seamlessly integrate into vehicles.
Child Presence Detection System: a solution for breathing and heartbeat detection with a sensor built into the seat fabric, and a solution for child-left-behind detection with millimeter-wave radar will be exhibited.
SoForm: a glass fiber-reinforced, scratch-resistant polypropylene that has low gloss, low emissions, chemical resistance, and structural performance.
Cubit: a mono-material 3D honeycomb fabric that can replace a portion of polyurethane foam in vehicles. The front and back surfaces can use recycled polyester fiber that can be recycled again and some grades of Cubit use plant-derived raw materials for roughly 40% of the connecting thread.
Polycarbonate (PC) Glazing: a water-based hard coating that is durable enough for PC to replace glass on vehicles, significantly reducing total vehicle weight.
Dinamica Pure: a premium microfiber resembling suede that is solvent-free and uses partially recycled content for exceptional performance and beauty.
Read More:
---
---